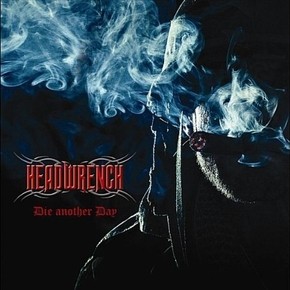 I am finally back at it after a nice Labor Day weekend. I still feel like I am on relax time so my guests today are perfect to get the motor running again. Allow me to introudce a metal band out of CT that are the eiptome of what I look for from that genre. Headwrench play music that is aggressive, rough, real, and takes no prisoners. The guys recently released their new album, 'Die Another Day' and with songs like "Bring It On" and "Left Behind" it's a winner. Join us as we talk to Headwrench about finding a new bassist, watered down metal, their 9-11 tribute song, and much more!
Stoli: Where are we talking from today and does the recent earthquake on the east coast mean that end times are upon us?
Headwrench: The earthquake we had was a shimmer compared to Japan, I doubt our quake means the end of days.
Stoli: Many people are preparing for end times and are stocking up on food, water, ammo, etc. Have you felt the need to do the same?
Headwrench: Living in Paranoia is basically not living, besides stocking up wont help, if its our time, its our time.
Stoli: How did you guys come together and why did you name the band Headwrench?
Headwrench: Well, Scott and I played together for years starting when I was 17 years old.   I took time off to go to school, years later Scott and I bumped into one another and decided to jam for fun.   We later met Steve and the rest is history.   Weve decided we have to keep it fun to make it last, no pressure from anyone else.   In terms of our name, that is Scott's animal.   Lets just say we are named after a smoking utensil that makes things right for some, thanks to mother nature…
Stoli: By your press shots & sound you guys look like someone I would not want to mess with but definitely guys I would love to party with. Is that accurate?
Headwrench: Very accurate, we don't take shit from anyone and will party with everyone.  
MP3 "Die Another Day":
Stoli: Do you feel the industry has watered down the metal genre and do you feel like Headwrench can bring it back to the essence?
Headwrench: Watered down for sure Stoli, Music has become more of a business than ever.   Due to the internet, and the industry loosing 40% of its capital, signing a band now is more of an investment risk than ever.   Therefore music execs want to take as little risk as possible and only sign bands that sound like bands that have been successful in the past.   Little innovation can come out of that.   Therefore like you say, the industry is milking only past successful sounds.   Can Headwrench bring it back to essence, we are just trying to be ourselves and take after our pioneers. If people dig it, cool, if not, we keep jamming, just like our pionieers….
Stoli: Do you ever see your music going Top 40/Pop and is that okay with you?
Headwrench: If we made it to Top 40 Pop charts then I would think end of days were coming.   We are far from mainstream pop.   If we did make it to the top 40 of the pop charts I would have to question what the hell is going on.
Stoli: Your album 'Die Another Day' is out. What was the meaning behind naming it that besides the fact that is a track on the album?
Headwrench: This song was created after the tradegy of 911.   We wanted to help give hope for our nation during a very down time.   Therefore our message to our enemies was simple, you may have had your shot at us, be we will win the last fight. Plain and simple, you live now only to "Die Another Day".
Stoli: Where did you guys do most of the recording & writing for the album?
Headwrench: We started recording the album at "Red Door Studio" in Harlem NY.   We recorded three songs with Engineer Stacey O'dell.   We were desiring a more raw, less produced sound, so we then recorded the remainder of the album with "Underground Studios" in   North Haven CT.   We quickly hit it off with Engineer Chris DelVecchio.   Given the limited funds we had and the time we had, we feel we put out a strong product to represent our first album.
Buy 'Die Another Day': http://www.cduniverse.com/productinfo.asp?pid=8561628
Stoli: Name two other current metal/rock bands that you guys listen to & respect?
Headwrench: Current, Hmmm, Black label Society for sure, Zakk is a huge influence on us. The other would be Pantera.   They will live forever to us and always be current….
Stoli: You guys are always playing live which is huge. What can we expect from your live show and any shows you want to mention that are coming up?
Headwrench: We have always said, our disc is good but doesn't compare to our live show, that is truely Headwrench.   We are just not a studio band.   We do what we have to do in the studio and give it our all but, the stage is why we do this.   We appreciate the positive feedback we've received from album but our heart and soul is our live performance.   The one show I would like to mention coming up is October 29th in Monroe CT.   A Halloween party that our good friend John Burtsche puts on.   A killer event that words can not describe.   Details will be on our FB page or website.
Stoli: I love the song "Left Behind" so who wrote it and what inspired the lyrics?
Headwrench: Our former rhythm guitar player Brian Root and myself wrote that song.   Brian is a great friend and a missed member of the band.   The lyrics really have to do with both life's ability to kick you when your down and saying enough is enough. I'm going to be me and I will fight on.  
Stoli: How do you guys balance work, family, friends,etc and the band?
Headwrench: Lol, Thats the fun part.   We are not in our twenties anymore, so we are married with kids and work full time as well.   We pride ourselves on our ability to balance a lot.   It also provides a lot of inspiration for writing.   Dealing with difficult bosses and low funds can be a lot of inspiration to write music.   Our families have provided us with a giant amount of support for us to be able to do what we love, jam.   Music has truly been a release for us over the years and will continue to.
Stoli: What is coming up for Headwrench and where you at online?
Headwrench: Actually our bass player Mike Tellier has very recently left the band for personal reasons.   So we are now   searching for a bass player.   If anyone is interested please FB us or send us an email through our website.   In terms of our music, the future looks great for Headwrench.   We have 6 songs written for our next album.   They are very heavy and full of groove.   If you decide to come to one of our shows, please come bs with us.   Our website is www.headwrench.net.   myspace.com/headwrench, facebook.com/headwrench.   You can also pick up our album at itunes, cdbaby and emusic.