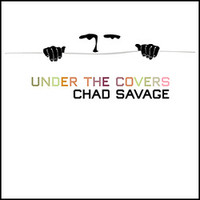 Not since the second disc of The Black Crowes, Warpaint have I reviewed an album of covers. I have always approached the idea of cover albums with ambivalence– some artist's takes on other artist's songs leave me feeling the latter may be better than the former (Widespread Panic's rendition of "And it Stoned Me" comes to mind). Other takes on covers leave me thinking you shouldn't mess with an already good thing (Lenny Kravitz doing "American Woman" comes to mind). That being said, Chad Savage has released Under The Covers– 10-tracks of his takes on a few favored originals and a few that I didn't remotely see coming.
The album standouts are as follows: Since I heard it so many years ago, I have always thought "Under The Milky Way" by The Church was a great song and one I don't ever hear enough of. Savage's version is a pretty straightforward rendition although the smoky rasp of his vocal delivery adds to the dreamy ethos of the tune. Think the original version with a little Joe Cocker thrown in for good measure. The effects-laden backing vocal fills are a nice touch as well. Following in the same vein is Mazzy Star's "Fade Into You." It's one of those songs you immediately recognize from the opening acoustic strums. It was a bit bracing at first to hear Savage's gruff vocal delivery but after the opening verse, it began to fit. The highlights of the track are the constant backing keys (especially good, I might add) and the harmonized chorus of Savage and guest vocalist Melanie Hernandez, who actually sounds a lot like Hope Sandoval. "My Old School" features pounding piano work and more of Savage's gruff rasp in the vocal delivery of what is just a fun Steely Dan tune. What I like about this version is it's a bit more "blues-down" than the pop sentimentality of the original and the guitar work at the midpoint is brilliant. Finally, Steve Winwood's "Can't Find My Way Home" may be the strongest track on the album. The opening acoustic picking accompanied by weepy strings is eerie (in a good way) until the first verse builds to full band. Again, the vocal delivery is to be commended as Savage doesn't sing quite as nasally as Winwood (Sorry, Steve) does on the original. The musicality bolstering the vocals is technically tight and articulate and wraps the track into a good, complete package.
A big thanks has to go out to Savage for allaying my trepidation of cover tune albums. The production is solid without being overbearing, the musicality proves that Savage surrounded himself with apt players and vocally, this guy has something pretty special. My only complaint would be with a few of the track selections. "Use Me", "Into The Mystic" and "Hard To Handle" have been done and done, and if not they are grossly overplayed. But again, from a rendition standpoint, they are done really well. All in all, this isn't good; it's damn good.        
by Chris West – cwest@skopemagazine.com
[Rating: 4/5]