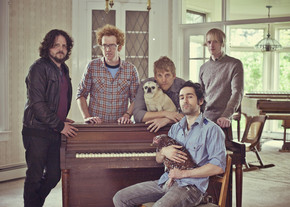 Praised by The New York Times for flirting "with fuzz-tone riffs and proto-psychedelic Southern rock, diversifying a 1970s fixation" American Goldwing is "stubbornly engaging, filled with characters who drink and regret it, and struggle to understand their own decisions. Tucked amid the pastiche are good laments like [songs] 'Taking It Easy Too Long,' a rueful self-evaluation, and 'Love The Way You Walk Away,' a brokenhearted shrug."
Watch the brand new video for "Love The Way You Walk Away" here:
[youtube 9UK2nIsflQA nolink]
Beginning October 7th in Petaluma, CA, Blitzen Trapper will embark on a six-week North America co-headlining tour with Dawes. Tour dates below.