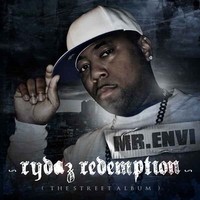 It is no mistake that the second track on the new release from Mr. Envi is titled "I'm Ma Boss" in that he actually is the CEO of Louisiana's Southern Stisles Records label. But it was perhaps that role that placed his personal creative endeavors on the back burner while Envi poured his efforts and time into others. "One of my biggest setbacks was not pushing myself as an artist first," he said in an interview with WWS Magazine. "I invested a lot of time, money and patience in other artists trying to establish my brand. How I bounced back was putting that same time and effort into me." At first, that effort ushered up the five-track teaser EP of the same name. Now the full-length of Rydaz is available and boasts 13-tracks of heavy beats and clever lyrical content.
[youtube sTh7lXbj5dI nolink]
Album standout, the aforementioned "I'm Ma Boss" is a synth-heavy intro track that sounds reminiscent of the rap delivery of 50 Cent. The lyrical matter is boastful, but clever and serves as that self-promotion track that has become ubiquitous among virtually all Hip-Hop albums. "Boss" is appropriately placed in that is certainly sets a precedence for the album contents. "Cold Outside" is a cautionary tale track again, all too ubiquitous for Hip-Hop albums with "gangsta" lyrical matter of rolling blunts and toting chrome, but the track shines in that it isn't bogged down by heavy effects; allowing Envi's rap delivery to stand at the foreground of the track. The autotuned "I Just Wanna" is a down-tempo rap track version of a love song, I suppose. The vocal effects seem misplaced and frankly are distracting. Not that autotune can't have its place, but this instance seems like the decision to use it was made and its placement was the afterthought to the detriment of the track as a whole. "Do Tha Thang" is the opposite in terms of effects with an opening vocal sample that sends the listener in one direction only to give to piano notes while the track slowly builds to crescendo. With a myriad of time changes throughout the verses and chorus and the constant of backing piano makes this arguably the catchiest track on the album.
"Boss" is your full rap album for sure and for every drawback within, there are equal moments of clever, thoughtful facets that make it very likeable. Envi has a good rap delivery but throughout I get a bit lost and find myself wanting him to return to the mic and eschew the myriad of guest appearances on the album. All in all, the album has a very diggable amateurness to it but is not beyond a bit of old fashioned spit shine and polish.                  
by Chris West
[Rating: 3/5]