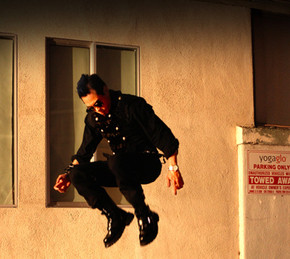 DJ Jounce, who composes, produces and plays some of the most innovative Electronic/Dance music found today, is ready to launch his new debut CD entitled Temporal Ascent. The disc will be released by Room Trip Music on August 30, 2011 and will be available on iTunes, Amazon.com and other major online outlets.
Well-known for both his solo work and vast collaborations with many diverse artists in the music industry, DJ Jounce prides himself on the fact that "everyone's unique style brings something different to the table, so every song ends up having its own flavor and sound." While mixing in a little Pop, R&B, and other eclectic sounds on tracks like "Ooh La La (Baisez Moi)" featuring Sherryce and "I Gotchu Babe" featuring Rachel Lynn Sebastian, DJ Jounce impeccably maintains a notable cohesiveness and stylistic continuity throughout the album.
"Melt In," the first track on Temporal Ascent, immediately amps up the energy and drive with a splendid blend of Electro, House and Techno grooves that's a deep feast for the listeners' ears. And the heartfelt track, "A Memory Of," is bound to provoke emotion in anyone who listens to just the first 30 seconds of the song. Composed after the passing of someone extremely close to him, the personal connection that DJ Jounce makes with his listeners becomes inseparable. For anybody who has lost someone, the song is anything but mournful, it is meant to celebrate all the good memories. Jounce explains, "The ending piano lines are like a conversation back-and-forth because I can still hear her voice."
DJ Jounce "Melt In" MP3: SKOPE IT HERE!