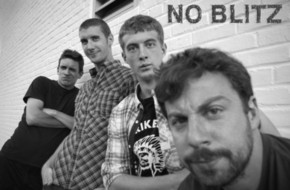 No Blitz is an American Rock band formed by Ryan Wogh. Influenced by bands like Foo Fighters, Muse, Incubus, Weezer, etc. the debut album 'Give it Back' was written and recorded entirely by Ryan in 2010 and features heavy, melodic guitars, driving drums, and catchy vocals.
"Lost" MP3: SKOPE IT HERE!
The band now consists of four members: Ryan Wogh, James Cichra, Dan Horner, and Shane Steenberge. They are currently recording their second album and playing live in the DC/NoVA area. When asked about the album in a recent interview Ryan replied, "It's going to be an awesome album if we even get close to materializing what is in my head. The hards are harder, the softs are softer, and these songs have been manifesting in my head for nearly a year now."
The album is being recorded in Ellington Studios in Georgetown, DC with producer Billy Hickey and is expected to be finished by Fall 2011.