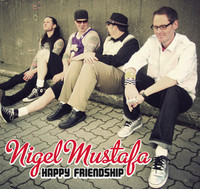 Brought back from a three-year hiatus to play a memorial service, the quartet, Nigel Mustafa, chalked the show up to one last show in honor of their passed friend. As chance would have it, the weeks of rehearsal leading up to the show saw new songs get thrown into the mix and a refueled desire to make music again emerged. The rest, as they say, is history. The byproduct of those sessions gave birth to Happy Friendship, 14-tracks of reggae- and ska-laced rock that is farther removed from the cheeky, funny lyrical matter of times past, all the while maintaining the feel that has always been their approach to music making.
Album opener "Damned If I Do" foreshadows much of the dub style guitar work and island feel lyrical delivery of the songs to follow. While the rock element is there, the track leans heavily on its reggae foundation in both the musicality and vocals. "She Wants to Do It" opens to demure harmonized vocals and simple electric guitar in the background before caving to the frantic percussion and jangle guitar work in what is reminiscent of an old Bus Stop song. An upbeat, toe-tapper, this is arguably the catchiest track on the album with a clever mid-point time change and almost rap vocal delivery. "Haters Fade Away" returns to the reggae-fused musicality, though with a heavier rock foundation within the chorus. This is perhaps the best illustration of their versatility and prowess not only within both genres, but also in their ability to transition from one to the other within the scope of one track. "Catatonic Blue" is an anecdotal track that allows the lyrics to "paint" the path of the song. And while the lyrics stand at the foreground of this one, the music is appropriately urgent to keep up with the song pace. And while the subject matter may be a little dreary, this is perhaps as light-hearted as a track about a "motorcycle vs. bus accident" could ever possibly be.
If Happy Friendship has an ethos, it would be "fun." This, plainly put, is just fun music meant to be enjoyed for what it is. There isn't much deep, thinking man's lyrical matter; it's light and ethereal and allows the listener to simply bask (and by "bask" I mean "get up and dance to it") in the light-heartedness of the album as a whole. This is no "rainy day music" for sure.
by Chris West – cwest@skopemagazine.com
[Rating: 3.5/5]