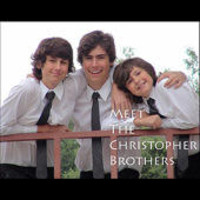 Move over Justin Bieber because there are some new kids in town ready to blow up the teen music scene.   The Christopher Brothers hail from sunny, Southern California and yes all three members are in fact brothers.   You have 15-year-old Cameron on drums, 13-year-old Charles on lead guitar and 10-year-old Ethan on bass.   This incredibly young trio is bound to put a smile on your face.
I have to say that I am very impressed with The Christopher Brothers because even though they're just kids they prove to have much talent and a tremendous amount of potential.   These up-and-coming singer/songwriters self-produced the new EP 'Meet The Christopher Brothers' that includes three original songs.   What is also great about these lads is that there not just into that Kiddie Pop stuff but also have a deep appreciation for classic rock & rock music in general.   Some of the bands that they enjoy covering live are: The Beatles, The Rolling Stones, The Beach Boys, Santana, Green Day, Guns N' Roses, Wild Cherry and The Killers.   At such young ages, The Christopher Brothers already seem to have eclectic tastes which I think is great.
The EP starts up with a definite kid-friendly number titled "Just Another Day" that is about time spent at school.   The innocent vocals & music will attract children & teens from all over the map!   Next up is "What If" that shows off their rock sides giving way to a very catchy Soda Pop-kind-of sound.   You'll get a little dose of puppy love on track three "Girl You Know I Care" that sheds some sensitive light on the group.   The final installment is a cover of a classic John Lennon song "Imagine" which is one of the best songs ever written in my opinion.   John Lennon was a master in the craft of songwriting and "Imagine" can attest to that.   I was worried here because this song has such a powerful message and feeling with emotions running wild.   So…how did they do?   The Christopher Brothers actually pulled it off with a nicely-done version.   The Brothers made it work in their own style and I have to say that I was pleasantly surprised.   This version was definitely a new twist on a monumental song but I honestly think John Lennon would have enjoyed it.   So hat's off to you gentlemen!
The Christopher Brothers have a bright future ahead of them and I look forward to following along with their career.   These four songs are just the start as I feel more substance-worthy material will be coming our way soon.   'Meet The Christopher Brothers' is a good introduction for the world to get to know these fun-spirited musicians.   All I have to say is watch out for the screaming girls now!   And I'd like to end by sending a personal message to The Christopher Brothers: Always follow your dreams and never quit no matter what!    
By Jimmy Rae (jrae@skopemag.com)
[Rating: 3.5/5]