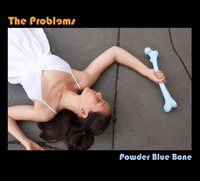 While the advent of Uncle Tupelo arguably gave birth to the "alt country" genre, ever since hybrid country bands have steadily proliferated into a style and sound that some claim rivals much of the homogenized "country kitsch" that Nashville seems to churn out incessantly. While most bands in the genre utilize much of the classic instrumentation and methodology of country per se, stylistically there just seems to be more. And more is exactly what you get from New York's The Problems. A mash-up of styles and endless genre borrowing are the hallmark facets of their long-awaited follow-up, Powder Blue Bone.
Opening track "June" lends front man, Frank Caiafa's gruff vocal delivery that is one part Dylan and another part G Love singing through a tin can. The folky combo of acoustic guitar slide and balladesque banjo serves as the minimalist instrumentation with slight backing organ joining in at the midpoint. "Shipbuilding, Again" sees full backing band with opening acoustic riff and banjo interplay through the verses until the staccato delivery of the chorus. Here, the track is rife with pop sentimentality with overtones of country and John Mellencamp lyrical matter. The musicality is tight and stands up to the vocals making it full, lush and complete. "Roses" opens to almost Spanish guitar riff work and quirky accordion fills. The backing melody holds up the vocal delivery with slight banjo plucks and acoustic strums before adding lead fills in what can only be called an electro-acoustic tandem track. "Walk Under Ladders" is a clear nod to Dire Straits guitar as Caiafa channels Knopfler himself in the vocal delivery. A radio-friendly toe tapper this literally sounds like a "left off the album B-side" from "Brothers In Arms."
What's interesting about the mash-up sound of The Problems is that it all sounds very deliberate. This isn't a band with a myriad of influences that couldn't decide what direction to go. This is a band with a myriad of influences that meant to include all their musical influences. If there isn't at least something on this album for you; then I venture to say you don't like very much at all. Simply put, this is a breath of fresh air and will remain in a standard rotation.      
by Chris West
[Rating: 4/5]