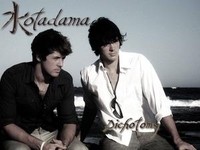 If you haven't heard of the group Kotadama then prepare to be blown away!   Two brothers Chris & Evan Brown are Kotadama and they now have a debut album called 'Dichotomy'.   At just 22 & 24 the Brown brothers hail from Australia but they have traveled to many parts of the world already.   They were once even dedicated ballroom dancers bouncing all over the globe and then even got involved with stock market trading.   Now the worldly duo tackles the art of music by cutting their very first record.  
Before I even slipped the disc into my Sony DVD/CD player I couldn't help but notice the wonderful cover art inside and out.   You see the sun shining down on the glistening ocean waters that offers the viewer absolute serenity.   Right away from the peaceful 'n' golden imagery I sense that Kotadama may be a spiritual bunch and my notions stand corrected.   Kotadama is actually Japanese for "spirit of words" and its meaning is: "the traditional Shinto belief in spiritual power residing in spoken words.   Words have the power to heal and destroy."   'Dichotomy' actually pertains to "a division into two especially mutually exclusive contradictory groups or entities."   So now I know that these brothers are deep but just how deep are we talking?
[youtube ZJyMZimXXPg nolink]
Kotadama got my attention right from the start on a song titled "Destinations" where I can tell Chris & Evan really had something here.   As the CD rolled along you're hearing spiritually, uplifting music that is both relaxing and just a pleasure to hear.   All of the tracks on 'Dichotomy' are musically & vocally rich to say the least where it seemed that Kotadama clicked on all levels.   On the song "Yesterday" you're receiving an enjoyable listen where rock & pop is played up very well.   On track seven "Earth Vs Man" you will experience a powerful message where the Browns stress that there is "nowhere to run and nowhere to hide".   On "Standing AT Your Side" you will get a killer vocal performance where you're hearing one hell of a range being displayed.   What I got out of this record and Kotadama in general is a refreshing voice in Pop music that is much needed today.   With substance galore, sensible lyrics and an overall sound that is appealing & catchy, Kotadama appears to be the total package.   Kotadama is a breath of fresh air in today's music world and I just hope that they explode onto the scene.
Kotadama – "See You Tonight" MP3: SKOPE IT HERE!
This new album was also produced by Chris & Evan and recorded at Kotadama Studios.   It's worth noting that the first single off of 'Dichotomy', "See You Tonight", actually spent 8 weeks at #1 on KISS FM in NY as the most requested song.   It even beat out Lady Gaga, Katie Perry and Pink which I couldn't be more happy about.   That same single also spawned a video that aired on CBS, FOX, NBC and other networks in the United States.   You can even listen to "See You Tonight" and watch the video right here in this Review +!   Obviously much early success for Kotadama but there is much more to come I feel.
OTHER ACCOLADES:
—Became finalists in Europe's 100% Music Songwriting Contest
—Appeared at the Kansai Music Conference in Osaka, Japan
—Nominated for a Los Angeles Music Award
—Played an acoustic showcase in the UK
—Won first place in the International Festival4Stars Songwriting Competition
—Received invitations to perform at the Barcelona Accio Musical Festival in Spain and in Canada and the U.S.
—They have hit the Top 100 American radio plays lists for online and radio stations
Kotadama's music can literally be heard all over the world from their native soil of Australia all the way to Africa, Asia, United States and England.   It's a busy, busy lifestyle for the two siblings as they prepare for a tour in India later this year and they are even working on a second album!   The future looks extremely bright for Kotadama and like I said earlier if you haven't heard of these guys yet then get ready!   I would highly recommend 'Dichotomy' to anyone out there and I also urge you to check out Kotadama right now!
Here are some additional links for your viewing pleasure:
www.kotadama.com
http://itunes.apple.com/au/album/dichotomy/id410550187?ign-mpt=uo%3D4  
http://twitter.com/#!/kotadama
http://www.facebook.com/kotadama  
http://www.myspace.com/kotadama
http://www.youtube.com/user/kotadama
By Jimmy Rae + (jrae@skopemag.com)
[Rating: 5/5]