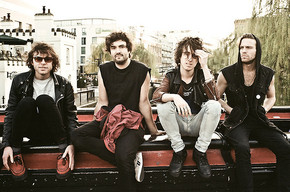 It's not an apology: the chorus of Tribes' single "We Were Children" is a call to action, a celebration of influence, and an acknowledgement that we are what we love. "People have said that Tribes are nostalgic in sentiment, but you spend your whole life writing your first record," Tribes frontman Johnny Lloyd says. "The songs are about things you experience when you're young." Luckily for us, in their youth Tribes also experienced the raw power of Sonic Youth, the buzzing urgency of The Pixies, and the melodic swoon of Blur.
DOWNLOAD: TRIBES – We Were Children:
Formed in rough-and-tumble Camden, London in 2009 after guitarist Dan White tried to steal drummer Miguel Demelo's wallet, Tribes have grown the old-fashioned way, eschewing an early web presence in favor of CDs passed out directly to friends. As luck would have it, their demos fell into the hands of Black Francis, leading to an opening slot with heroes The Pixies at a concert in London. Shortly after, the band's buzz, perseverance, and reputation as a furiously energetic live act earned them a slot on their first UK tour, supporting the Mystery Jets.