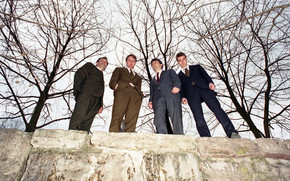 Landing September 27 is Sooner or Later, the first-ever compilation from The V-Roys, the seminal roots rock band that influenced a generation of Alt-country revelry.
Vocalist/guitarist Scott Miller, lead guitarist/vocalist Mic Harrison, bassist Paxton Sellers and drummer Jeff Bills left an indelible footprint on the music community during their succinct but illustrious run from 1994-2000 in which the quartet released two critically-acclaimed studio albums, Just Add Ice (1996) and All About Town (1999), and one live album, Are You Through Yet? (2000).
"SOONER OR LATER" (Remastered):
The 18-track collection of remastered material releasing on Miller's F.A.Y. Recordings pairs thirteen previously released album tracks including fan favorites "Guess I Know I'm Right," "Fade Away" and "Cold Beer Hello" with five unreleased studio recordings. Added to the mix are unreleased covers of Tom T. Hall's "That's How I Got To Memphis," Neil Young's "Burned," and Leiber and Stoller's "Smokey Joe's Café" (from the Add Ice era) with the unearthed originals, "Hotel Room" and "Someone To Push Around" from the About Town sessions. The two newly restored tracks, both penned by Harrison, represent the only unreleased original songs stashed in archives.