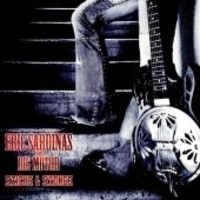 Eric's interpretation of the blues is delivered via resonator/slide guitar and gritty vocals. The Florida road veteran with a six-album catalog has put this one together with Levell Price on bass and Chris Frazier on drums. The songs are basically traditional format, the storytelling of blues. The uniqueness is in the delivery. The disc ranges from straight up blues, to rock with a blues overtone. Dunlop has issued a version of his brass "Preaching Pipe" slide, duplicating the thickness etc.
Cherry Wine is an uptempo blues rocker, with some screaming slide. Ratchet Blues is a pure reso/slide guitar and vocal track. Road To Ruin is a Southern styled rocker. County Line follows the same route, with the band kicking in as a backdrop at the end. Burnin' Sugar is a rocker that sounds at home with Southern Rock groups like Skynyrd. Behind The 8 is a fast instrumental with some tasty guitar licks. Goodness has a Stones/Aerosmith feel. Too Many Ghosts is a nice slower paced tune, the closest thing to a ballad on the disc. Through The Thorns is a slower blues shuffle piece.
Eric is definitely a player, and has proven his skills across the globe. This mix of material shows that blues can be interpreted with stylings found with Cajun/Delta, Robert Johnson, Danny Gatton, and Chris Whitley influenced delivery. His voice is edgy, but not overbearing. This is a nice sounding release, cool guitar sounds, and constant changing of speeds. There are some neat licks and solos involved with this, the kind of thing most guitarists wish they could play live by grabbing a full beer bottle as a slide, and going at it (RIP D. Gatton)!
By RME
[Rating: 3/5]