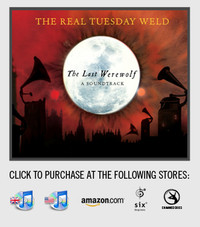 This is about as strange a compilation on a release as you will find, fitting for a Glen Duncan novel about a strange but interesting folklore subject.   Everyone loves Werewolves don't they?   The project led by Stephen Coates touches on various genres of old time music.   The project takes on an old time radio serial nuance.   A soundtrack to a book.   A novel (pardon the pun) approach to say the least!  
The use of smoky room/club piano, trumpet, and clarinet give the disc a cabaret feel.   The release features 19 tracts including bits of narratives from the book of the same name.   Tear Us Apart sounds like a Blue October styled piece, as does You're Going To Live.   Save Me is a neat 40's styled ballad.   The Hunt is a rather risqué version (worthy of a rapper) relating to, I guess, hunting down "The Wolf".   Me And Mr. Wolf is a vocal call and response type song, done in a jazz tempo.   Wolfman is a screaming harp led piece, with loud screamed distortion vocals (from Joe Coles), ala Tom Waits.   The Lupine Waltz is a catchy Victorian era sounding offering.   (I Always Kill) The Things I Love is a 40's torch song formulation.   The Cruelest Month is a short haunting piece, leading into Let It Come Down, which is a slower paced piece.  
This release covers just about every genre that could be attached to a Werewolf story, with a little Kurt Weil, Tom Waits, Jim Steinman, Michael Buble, B/O and Josh Groban stylings thrown in.   A lot of sound effects add to the spooky feel of this soundtrack.   Many of the short tunes feature vocal plays off Pinky Mclure voicing and the Puppini sisters background harmonies.   Give it a listen if you have the stones!  
By RME
[Rating: 3/5]