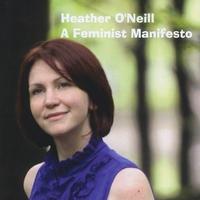 **CALLING ALL WOMEN**–Heather O'Neill has the answer for you and it's 'A Feminist Manifesto'.   The Chicago-based singer/songwriter is the voice of reason & understanding when it comes to being a strong independent woman of today.   Touching on the subject of misogyny, O'Neill obviously realizes that females have come a long, long way over time but that king-of-the-castle mentality is still very much in play.   On the new 6-track EP Heather points out that the overall music industry is still heavily dominated by men.   However, this is not an attack record by any means as the whole project actually comes across as very light-hearted & laid-back.   The singer/songwriter likes to refer to this style and album as "provocative blues with a comedy chaser".  
O'Neill handles all the vocals on 'A Feminist Manifesto' but she has a full band backing her up.   There are horns, bass, drums and two special guest star musicians–guitarist Dave Uhrich and violinist Jerry Goodman.   I have to say that the overall sound here was quite plush to go along with a classy touch.   I picked up on elements of jazz, blues and even light rock.   Heather O'Neill appears to be a modern day lounge singer who is reinventing the genre & era.   On the opening track "Ballerina in a Bullfight" you're getting a silky smooth aura to go along with a   very free 'n' breezy feel.   The horn section was superb on this song as the entire instrumentation was spot on throughout all six installments.   I really enjoyed the violin part on "1,000 Springs", the relxing vibes of the trumpet on "Monique" and the closing number "What a Way" proves that guitars can be played with pure finesse.  
I did notice though that O'Neill has a very unique style & approach vocally that didn't work for me personally.   For me it was just about the timing seeming a bit off & arrangements not working out.   I definitely sensed Heather's passion through her voice & lyrics but it wasn't something I was able to relate with at first listen.   Don't get me wrong though because there are a lot of great qualites there for Heather O'Neill and 'A Feminist Manifesto' but I just need to hear more.   I hope to be proven wrong in the next round!
By Jimmy Rae (jrae@skopemag.com)
[Rating 2/5]