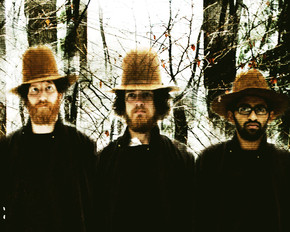 Columboid score the soundtrack to the end of days…they are the bringers of death…they are the answer to my Gothic dreams. Formed around the nucleus of singer/keyboardist Ryan Hamilton in his NYC basement back in 2009 and joined by Benjamin (Drums, Vocals) and Russell Higbee (Hamilton's PA childhood friend, ex-Coyote band mate, and main Man- Man) on bass Columboid create '…an unholy alliance between music and technology'.
[youtube 23502183 nolink]
Columboid's newest album, We Were One is available now via Pennsylvania label, La Société Expéditionnaire. Catch the band on an east coast tour this summer with Portland's Mattress.