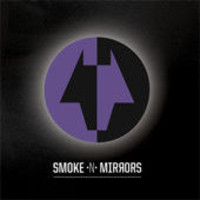 DanseWolf is an electro-rock 'n' pop trio from LA that brings a highly infectious sound to the table on their debut release.   'Smoke N Mirrors' centers around the highs & lows of living in Los Angeles, California and DanseWolf truly captures that.   The group is made up of: lead singer Juls D, fellow founding member & guitarist Andy Lagomasino and newest member Grant Webb on guitar also.  
These three musicians have come together to create something that can be appreciated & enjoyed by many.   Right from the start on the song "In LA" you're getting an edgy & raw pop/rock tune that is incredibly catchy.   What you're also experiencing right away is the powerful vocal presence of Juls D who definitely displays a lot of spunk & emotion.   I even sensed that Juls was channeling a little Debbie Harry of Blondie and Gwen Stefani of No Doubt throughout the 6-track EP.   'Smoke N Mirrors' ends with a song titled "Like a Ghost" that has one cool vibe goin' on musically.
I'd also like to add that the combination of kick-ass guitar playing and standout vocals/lyrics really makes for one powerhouse sound here.   DanseWolf seems to have tapped into something here with their fun & rockin' style of music.   The new release is poppy and full of attitude but also exhibits a serious tone at times thanks in big part to the well-written material and D's deeply personal & explosive performance.   DanseWolf's 'Smoke N Mirrors' has such an appealing feel that is radio friendly all the way.   I really look forward to hearing more from this electro-pop/rock band from LA so bring it DanseWolf!  
By Jimmy Rae (jrae@skopemag.com)
[Rating: 4/5]