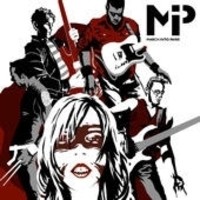 Get ready for the Indie rockers March Into Paris as they unleash 'Beautiful Chaos' onto you.   This band hails from Sacramento and is made up of five members: lead singer Jennifer Valdez, guitarists & founding members Eric Davis & Randy Medeiros, bassist Kevin McCarty and drummer Kris Ayala.   The energy that these five musicians bring to the stage is just off the charts!
The vibe is definitely rockin' throughout the 7-track set and the concept of experiencing the good, the bad and the ugly all in one shot is in full effect.   What really stuck out to me here was how Jennifer Valdez displayed so many different emotions from song to song.   Valdez sings with such conviction as she serves as the authoritative voice of March Into Paris.   This young lady who's only 20 performs with such power & might that it really leaves you stunned.   Then throw in the fierce playing & intensity brought on by the rest of the members that makes for one BIG blast of sound!   Guitar, bass, drums and vocals are all on the same page with what they like to call 'Beautiful Chaos'.
The musical diversity is highly present on this EP as March Into Paris have something to prove.   I did like what I hear but I have to say that I wasn't completely hooked in yet.   I need to hear more first in regards to this band and its music, the style & the purpose behind it all.   Before I become a full-fledged March Into Paris fan I just need a little bit more is all I'm saying.   So whatcha got for me!   I'd like to leave you with a powerful quote from Eric Davis that will hit home for many and is the driving force behind MIP: "To march is to stride boldly towards your dreams and make them a reality with triumph in your heart, even if you only have crumbs in your pockets."   Nuff said!
By Jimmy Rae (jrae@skopemag.com)
[Rating: 3.5/5]