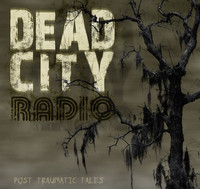 Of indie mind and metal body, Dead City Radio brings the stuff to satisfy both musical cravings on their debut album, Post Traumatic Tales–10-tracks of heavy hitting, guitar-driven anthems in a collision between say… Fountains of Wayne and early Metallica. The album is rife with musical facets taken from a myriad of genres and the musicality is the element that shines on this one.
[vimeo 23381762 nolink]
Album opener "The Surge and the Sting" begins with deceptive finger picking that immediately gives way to an aural assault of metal riff work. The lyrical delivery in the verses sounds reminiscent of The Strokes and lies just underneath a combo of guitars–one driving the track with a steady chug while the lead wails at the foreground. The tempo givers way at the midpoint briefly only to return to the agro pace through to the close. This track serves as an ample pace setter for the album as a whole. The controversially named "Space Shuttle Disaster" opens to a launch countdown that cues more heavy guitar work and space themed lyrical matter. The track as a whole tells the story of a launch gone wrong through to the intricate guitar work closer. "Make It Rain" opens to R&B groove over a Hip-Hop beats in the verses only to see the intermittent return of the heavy guitar at the chorus. There feels to be a bit of a disconnect between the verses and chorus until the midpoint where the guitar remains constant and bridges the gap. That being said, this track highlights their versatility. Finally, "Another Life" opens to eerie bottom of the guitar neck over a melody the likes of "Dear Prudence." The track is trippy and almost psychedelic in essence and sounds like it could have easily been on an Eels track. The heavy chug guitar is missing until a slight midpoint breakout. The vocals get lost a bit behind the constant wail of high note guitar, but again… the musicality is what shines on this one.
While I have to mention that the album sounds a bit raw and unrefined, I also have to admit the copy I listened to hadn't been mastered yet. This is sure to be rectified by the September release, especially with mastering tech Adam Ayan (Foo Fighters, Rolling Stones) gets his hands on it. All in all, a respectable first outing for a fledgling group that has yet to perform live.        
by Chris West – cwest@skopemagazine.com
[Rating: 3/5]