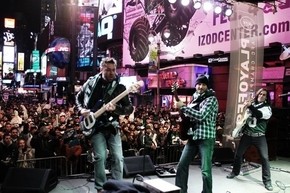 Well known Long Island band Ready In 10 has recorded an extremely emotional song to remind Americans how grateful we should be to our men and women in uniform. The song, "Freedom's Cry", written by Patrick W. Seminario, pays tribute to our troops as well as the victims of 9/11. The band's management, Scrocca Entertainment Group, has been getting requests for the song from radio and other media outlets.
[youtube 04tsMuxGyVo nolink]
"Freedom's Cry" is currently on iTunes and Ready In 10 will donate 100% of the net down load proceeds from the song from now until 9/11/11. After that a large portion of the down load proceeds will continue to be donated to groups such as Wounded Warrior Project and Disabled American Veterans. The band has a music video for "Freedom's Cry" in the works. Sal Nastasi, Ready In 10's lead singer said that the band wants to donate the proceeds from "Freedom's Cry" as the band's way of saying "Thank you!" to our troops for all of the sacrifices they make.
Photo Courtesy: Jen Barja @ NY Jets Pep Rally in Times Square (NYC) January 2011