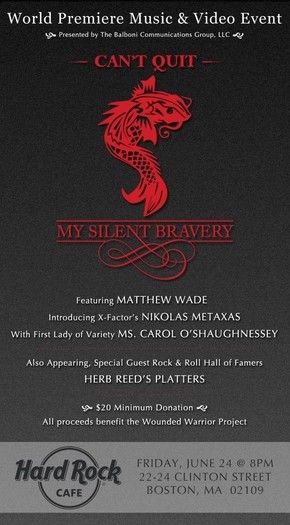 Veteran and Emerging Music Artists Unite for World Premiere Music and Video Event This Friday at Boston's Hard Rock Café. Special Guest Host Playboy's Ms. Social February Ashley Alexiss; Proceeds to Benefit the Wounded Warrior Project.
A multi-generational bill of national and international recording Artists will gather this Friday night at the Hard Rock Café in Boston to present Can't Quit a world premiere music and video release celebration starring Boston-Worcester based recording Artist My Silent Bravery featuring Matthew Wade while honoring our true American hero's.
My Silent Bravery will debut songs from the soon to be released LP Can't Quit. There will be additional performances by: X-Factor's NIKOLAS METAXAS; First Lady of Variety, MS. CAROL O'SHAUGHNESSY; and very special guest artists Rock & Roll Hall of Famers, HERB REED'S PLATTERS.
Playboy Model and Ms. Social February 2011, Ashley Alexiss, will be a celebrity guest host for the evening. Ashley teamed up with the Wounded Warrior Project and just completed shooting a 2012 calendar with proceeds going to the organization.
My Silent Bravery, whose music has been featured on high profile Network TV shows such as the CW's One Tree Hill, MTV's Real World & True Life, Oxygen's Bad Girls Club, the History Channels American Pickers, and AP's Last Chance Highway, has agreed to license the title track Can't Quit to the Wounded Warrior Ride being coordinated by Lt. Stephen Hallenbeck NC, USAF, and SM Sgt. Dug Coons, USAF, taking place this fall from New York to Andrews Air Force Base in Maryland (dugandstevesride.com). Hallenbeck will be a guest of honor for the evening.
The debut video for the single Can't Quit was shot in and around Boston under the direction of Vassili Shields. It covers the heroic struggles of the wounded warrior, youth at the hands of bullies and our fellow American's coping with the wave of national disasters plaguing the continental US.
Can't Quit, written by Wade, was shaped by gold and platinum producer Anthony Resta (Elton John, Collective Soul, Shawn Mullins, Duran Duran, Guster, etc.) and includes Boston music greats Charlie Farren (FBI, Farrenheight), Robert Holmes (Til' Tuesday) and Epic Recording Artist Matisyahu.
Friday, June 24, 2011 at 8 p.m. Minimum donation to the Wounded Warrior Project is $20.
Friday, June 24th @ 8PM
Hard Rock Cafe
22-24 Clinton Street
Boston, MA 02109
617-424-7625