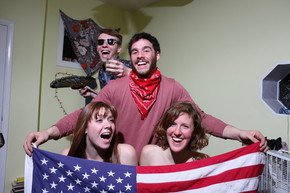 With their upbeat single, "Weird Science," the tongue-in-cheek lyrics go hand in hand with the band's name. Despite the group's seemingly adolescent demeanor, Timmes describes "Weird Science" as "a purging of emotions" with relentless drum fills, washed out vocals, and an overdriven guitar.
The song emphasizes minimalism with a two chord vamp as the verse and the delightfully simple guitar riff featured in the intro and breakdown while there is an absence of any traditional solo. The off-putting last line of the track will leave you dumbfounded with the bold testimony "If only you would fall in a k-hole and never come back ever again."
Marlon Rando will be releasing their five song, self titled EP June 29th with more singles to be dropped along the way.
Download Marlon Rando's song, "Weird Science" here: