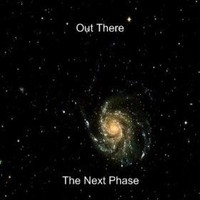 Love 'em or hate 'em, The Next Phase is coming with a style of sound that is ridiculously original on 'Out There'.   The Next Phase is one man known as Patrick Cannell who is one very unique singer/songwriter.   The title of this new record is summed up perfectly because it is definitely way 'Out There' in left field somewhere.
The creative driving force behind this album is detected easily by Cannell's unorthodox approach to music.   There is no set style or genre in mind now or ever and that my friends is what The Next Phase & 'Out There' are all about!   No limits, no restrictions, no boundaries; The Next Phase is just making music that he knows how to make.  
There is, however, a heavy influence of 60s & 70s pop 'n' rock drizzled throughout this 15-song set that gives the recording that classic, oldies feel but with that Next Phase twist of course.   Right away I'm picking up on Patrick's outlandish vocal delivery that comes across as quite offbeat to say the least.   This strange & different tone that The Next Phase conveys throughout the CD is further backed up by elements such as: Halloween-like themes on certain tracks, a weird country western vibe with loopy pop mojo on "Lovely Eyes" and even some good, old-fashioned humor thrown in for fun.   Actually, track six "All Points Place" was my favorite song, hands down, because it just had a really cool 60s sound with nice guitar moments and you can't forget the psychedelic 'n' trippy sensations.   Patrick Cannell aka The Next Phase really made this installment work as he brought it to life with finesse.
In the end, I have to say that I am on the fence as I see a lot of potential there but didn't quite get the overall picture.   'Out There' was just that for me as it wasn't my cup of tea per say but to each their own.       I do believe though that The Next Phase has much to offer but I would just like to see all of the material molded together a little bit tighter and better next time.  
By Jimmy Rae (jrae@skopemag.com)
[Rating: 2/5]