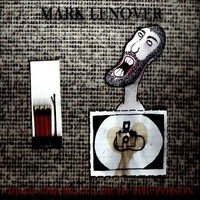 Mark Lenover is the sole performer responsible for 'Dead The Beast, Dead The Poison' as he also composed & recorded the new album.   Lenover obviously knows what he wants and how he wants it done so how will this record play out?   Answer: The 11-track recording comes across as one very complex piece full of emotion & surprise.
Right off the bat with "I Fell in Love" you sense a depressing and sad layer immersed within the music.       You also pick up on a deep soul that Lenover displays so well through his words and singing style.   Rolling into the next number "Double" I have to say that Mark appears to have a diabolical sound that seems to resonate throughout the entire album.   On this particular song the word "Double" is majorly emphasized and you can tell Lenover is just feelin' it in a BIG way.   Track three "The Mirror" has a dreary tone while "The Killing Place" can be best described as bring-me-down music.   Things get a bit warped on "Nick's Departure" while scary meets Pop on "A Proposal".   You'll get a ghostly chill on "Bedlam" and you'll be asking yourself "what does it all really mean?" on the closing number "Death Without Tears".  
Mark's style is really hard to to peg but I guess I can call it twisted folk pop.   You really feel the passion in his voice with every single lyric and note he sings.   The substance was definitely there but I didn't quite get the full picture.   'Dead The Best, Dead The Poison' was a little too gloomy-natured for my taste which I know was the intention but I need some sunshine in my life as well.   I have to hand it to Mark Lenover because this is one insanely original piece of work but I just need more.   I also need the atmosphere to be brightened up a bit while still keeping that dark tone.   This approach would make the whole story of 'Dead The Beast, Dead The Poison' a lot more gripping I think and would have much more of a powerful impact on the listeners.   I do have to say though that Mark Lenover intrigues me with his unique delivery.   Whether this disc leaves you confused, pleasantly surprised or both, one thing is for certain and that is that Mark Lenover will leave with you with a sense of wonder & unquestionable doubt.  
By Jimmy Rae (jrae@skopemag.com)
[Rating: 2.5/5]