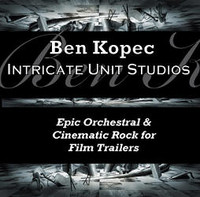 Ben Kopec is a solo artist, an American, and the six selections on this instrumental EP log in at just under 13 minutes. Though the information is not listed on the EP, it is safe to assume that this is Ben's debut release. Kopec can be contacted on the net at BK@BenKopec.com, at www.BenKopec.com
From the very first number, Kopec wastes no time to show what he and his music are all about: the first pounding, uptempo drumbeats, sweeping strings and "AH-OOH"s that open "Coup D'Etat make it clear that this composer doesn't mess around. He switches to high drama on the second cut, "Epic Cataclysm, and introduces a choir full of doom and gloom singing in an unknown language, perhaps Latin. Haunting strings add to the drama, while drums pound like thunder and cymbals crash. A single-note piano opens "Ancient Mystic", as it does on "Page Of Wisdom" and the thunder in the track's background remind me of waves crashing on a stormy sea: this one casts a spell. I can imagine little kids screaming and running for cover! With these two tracks Kopec really comes into his own: I was most impressed with the confidence he shows on both. He's unafraid to mix genres here. If you canimagine Sergio Leone, creator of soundtracks for the movies of Clint Eastwood having a hankering for Slayer or Black Sabbath, you can guess what these instrumentals, full of tension and power are like. The word "Epic" in the EPs title is apt: it's as if the world is facing judgement day. "Between The Gods" is has the most metallic feel of all. Even the most rabid rock fan would dig this one. With "The Great Adventure", the closing track, the minor key and trumpets in the background warn that gloomy times are ahead: though majestic, there is still a down-and-dirty feel to it. At its conclusion, the music stops dramatically a few times, and returns with powerful drumbeats to remind you that Kopec is not the kind of guy who plays around!
The EP has a consistent feel to each of the tracks: for this genre, it is a real success. Being a big fan of soundtracks, especially those of Leone and of Jerry Goldsmith ("Chinatown"), I can appreciate Kopec's awareness of what makes background music for film work well. He sets the right mood from the very first moment, and grabs you so you can't tear yourself away. He is in full control of the elements he uses to create this music: it is composed with a sequencer and mixed with a complex computer program. He has a great future ahead of him in cinema, television and in promos on the web: I can imagine his work inspiring metal bands who want to break out of generic arena rock, as well as attracting fans of classical music. Sounds impossible? Well, listen to "Epic Orchestral & Cinematic Rock For Film Trailers" and you'll see what I mean! To request a full catalog on hard drive, or for more on Ben Kopec and his music, you can contact Intricate Unit Studios by email or by phone.
I'm very impressed with this music: though one might complain of a certain similarity in the mood of the selections, the composer is in full command of the genre, a movie buff and lover of all things dramatic. All he needs now is to find an indie (or Hollywood) studio which can put these talents to use: in today's cinema, the love of all things vampire-driven and violent matches this composer's talents perfectly.
By: Thomas Murphy
[Rating: 3/5]