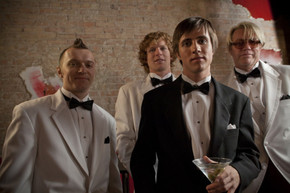 Indie rockers Junior Giant will release their studio album True North exclusively on iTunes in May. The album was self-produced with the help of local Salt Lake City engineer/producer Jason Perkins. True North is Junior Giant's follow up to their debut album, Blue Boy, released in 2009.
[youtube _BTHR1gRHIE nolink]
The music video was shot over 4 days at Solitude Mountain Ski Resort and was inspired by the 1977 James Bond classic "The Spy Who Loved Me." The end result is a fun filled video that pays homage to the unforgettable ski chase scene in the original film and ends with the band performing live to hundreds of enthusiastic fans dancing and singing along.
True North on iTunes: http://itunes.apple.com/us/album/true-north/id436144195