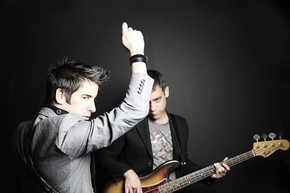 Ambient rockers Friend Slash Lover debut their new video for the single "Disasteroid" off their EP As American As Ones and Zeros.   The video provides a stylized viewpoint on global warming and the environment.   It was inspired by a George Carlin sketch according to Friend Slash Lover mastermind Josh Mintz.
[youtube bCavpx8wxp8 nolink]
"He points out how arrogant it is to say we're 'killing the planet,' when in fact, we're only killing ourselves."     The video was directed by Jordan Katnik and produced by Bryan Raber.  
Photo by SWTCH Imaging LLC.