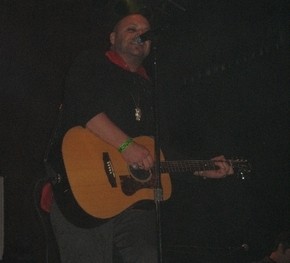 The other "Little Ole Band From Texas'' arrived with it's: Ugly Side: An Acoustic Evening With Blue October, to promote the new album of the same name. The stage was set up to simulate a living room complete with couch, tables, lamps etc., reminiscent of the Martin Mull and His Living Furniture tour of old.  
Front man Justin Furstenfeld alternated between sitting on a stool and roaming the stage, with a guitar and mic.   Drummer Jeremy Furstenfeld played an acoustic kit, sometimes with his hands for softer parts.   Bassist Matt Noveskey alternated between acoustic and electric bass and guitarist Julian Mandrake (replacing CB Hudson III) did the acoustic guitar thing from the couch.   Ryan Delahoussaye (clearly one of the most talented swing men in the biz) merely showed up with violins and mando's hanging off him, either stood or sat at the piano bench (sometimes on the same song) and hammered home the violin/mandolin/keyboard/backing vocal requirements.   In his spare time, Ryan also popped onstage to play with the opening act.  
The band played a variety of material from various releases including Calling You, Dirt Room, Jump Rope, Should Be Loved, Ugly Side, Hate Me, Into The Ocean.   They played something off their upcoming release, but the HOB sound system doesn't allow you to understand anyone talking (and Justin, I was listening).   The opening act's singer Patricia Lynn joined Justin for a few numbers.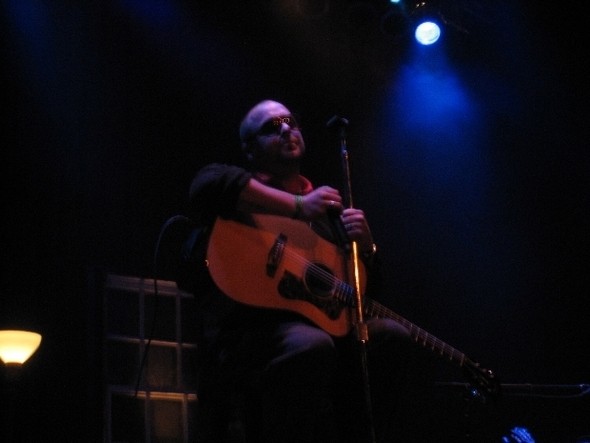 The ironic thing, is that Blue delivered the material with virtually the same energy and impact that they have with the full-blown show.   Justin has proven that he can write with the best of them, and the band's following proves they have staying power, and that the fans are behind the Guys In Blue.   The acoustic show was almost a surprise move, but a neat premise that the audience really settled into.   Most of the entire tour is sold out in advance, so get humping if you want to participate!
The Soldier's Thread opened, featuring singer Patricia Lynn, and Justin McHugh and Todd Abels both alternating between acoustic guitars and keyboards.     They were well accepted by the crowd, and provided a laid back backdrop of sorts for the headliners.   They are supporting their new release In Spades.
By RME