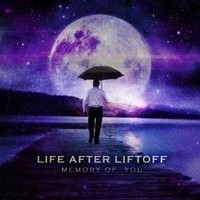 Get ready for Dayton, Ohio's own Life After Liftoff and their quick-to-the-punch EP 'Memory of You'.   LAL is a four-piece band made up of: founder & front-man Lee Weiss, Jason Sigritz on bass, backing vocals & keys, Ryan Chatterton on guitar, backing vocals & keys and Dan Malloy on drums & backing vocals.   This group has created a three-track set that is a prelude to their upcoming, full-length debut titled 'Everything Is You'.   Short but sweet can best describe this new release for the Dayton players and I have a feeling there will be a lot more fans after listening to 'Memory of You'.
Weiss tagged the Life After Liftoff sound as "alien pop punk" where I definitely hear the pop & punk rock elements but not sure where the "alien" reference comes from.   I'd love to have Lee Weiss explain this concept to me because I'm not getting that.   There is nothing strange or weird or even extraterrestrial about this recording at all.   Quite the contrary actually as you will hear a trio of songs that are extremely radio-friendly.   I also picked up on a college-friendly vibe due to the group's fun & free spirited attitude.   Life After Liftoff have that playful sort of innocent sound that would be eaten up by teenagers and college students alike.  
The pop/punk & pop/rock feel is heard loud & clear on all three songs and done up very well by LAL.   I even detected a Blink 182 influence in sound & style minus the silly atmosphere that Blink made so famous.   "The Promise", "Memory of You" and "Someday" are all ready for human consumption and should be playing at radio stations everywhere!
What I liked about this band is the fact that they had catchy riffs & vocals with a definite pop appeal but not cheesy at all.   With low standards when it comes to the lame-ass popular music of today, LAL could literally come in and breathe new, fresh life into the faltering pop scene.   For this reason alone I am very excited!  
I think the whole pop/punk idea that Life After Liftoff has tapped into is cool but I'd also love to hear some more edgy & raw tracks.   I sense that Lee Weiss & company have got it in them so in the words of the late, great Rick James "Give It To Me Baby"!   Now, I am ready for 'Everything Is You' so come with it guys!
By Jimmy Rae (jrae@skopemag.com)
[Rating: 3.5/5]