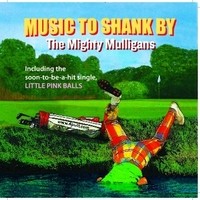 You've heard of Sugarhill Gang's classic hit "Rappers Delight", well get ready for a golfer's delight anthem brought to you by The Mighty Mulligans.   'Music To Shank By' is a collection of 13 lighthearted tunes that poke fun at nothing else but the game of golf.   This comedy-driven album is smart & funny and should definitely put a smile on your face.
The Mighty Mulligans are made up of just two members: Michael Mugrage and Rex Fowler.   The duo covered all of the music, singing and lyrics while Mugrage produced the record and Harry Nilson wrote the song "One".   All of the tracks are quite humorous as you appear to get in the mind of a golfer.   This album takes the less serious approach by showing listeners that golfers know how to have fun too.   I couldn't help but think of one of my favorite movies of all-time 'Happy Gilmore' because of the slap-stick material displayed on this record.   Before you even listen to the disc, you see a golfer partially on the green with goofy, multicolored pants and his head completely submerged in water.   I knew just from that imagery that I was in store for something refreshingly different.
'Music To Shank By' was definitely a nice change of pace for me because it was fun and easy on the ears.   The record swings away with a Laffy Taffy-type atmosphere where the course is full of silly flavor.   With plenty of balls and clubs to choose from, The Mighty Mulligans offer something for everyone.   Besides punchlines, Michael Mugrage and Rex Fowler prove that they are also stand-up musicians as well.   I heard elements of rock, blues, country, pop and even 50s-style rock & roll all rolled up into one unique package.
The whole delivery was a little hokey/jokey for my taste but I do appreciate what The Mighty Mulligans have done here.   This is a golfer's delight so if you enjoy the game in all its glory and you have a good sense of humor then you should love this record.   These guys may have tapped into something here where The Mighty Mulligans could possibly corner the market of the wide world of sports now.   Endless opportunities await you gentlemen so bring on the sports follies and shenanigans!   Sounds like a hole-in-one to me fellas and with par spelled backwards that's a rap!
By Jimmy Rae (jrae@skopemag.com)
[Rating: 3/5]