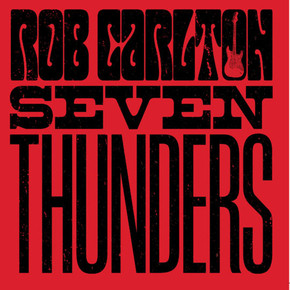 The rock guitar virtuoso from East Stroudsburg, PA is back for more with his brand new album titled 'Seven Thunders'!   With seven electrifying tracks, Rob gives you the best of both worlds which is rock and the art of guitar playing.   You're getting nothing but the best of rock instrumentals by a man I'd like to refer to as Rockzilla.  
The electric guitar is Rob's forte but he shakes things up a bit by including two short acoustic sets on the new record.   Rob Carlton follows up 2009's 'Beautiful Collision' with guitar solos that will just blow your mind!   The energy displayed on 'Seven Thunders' is off the charts as Carlton has the pedal to the metal!   You'll be rockin' and you'll be rollin' to the thunderous sounds of Rob Carlton after it is all said and done.  
"Seven Thunders" MP3:
The title track can be heard on radio stations all over the U.S. And Canada thanks to Grit PR who promoted the single's release.   Rob is also touring to help promote the new album and he has some exciting shows coming up.   On April 17th, Carlton performed at the Guitar Clinic at Guitar Con in Fitchburg, MA and then toward the end of May he hits Nashville for an Extreme Tour Showcase at RocketTown Club.   He will even be at the Fox Theater in Atlanta for a 10 year anniversary show commemorating 9/11!   Don't miss Rockzilla as he takes over a town near you!
[youtube E-XpPSQ62uc nolink]
As I've said before, Rob Carlton is the real deal guitar hero because he pocesses a natural ability that's   impossible to overlook.   Give this guy a guitar and just watch what he can do; it will simply amaze you!   Rob Carlton + rock music + guitar =   Perfect chemistry and just the right medicine for success!   If you don't have 'Seven Thunders' in your hands right now then you are missing out BIG time my friends!   Here are some great spots to buy a copy for yourself: http://www.cdbaby.com/Artist/RobCarlton1 & http://www.digstation.com/AlbumDetails.aspx?albumid=ALB000070979 .  
By Jimmy Rae (jrae@skopemag.com)