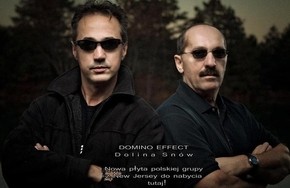 Domino Effect started it's existence at the end of 2006 in the state of New Jersey, USA. The musicians forming the group come from no-longer existing bands Komplex N and Rytmy. In the United States they made their mark releasing an album "Covers" , dedicating all profits to the Feed The Child Foundation.
[youtube yEg-yv8lxio nolink]
Throughout the last year the leaders of the group have been working on recording   their new album "Dolina Snow" in Polish language version. The album is available in selected stores in the USA and through our promotional internet sale.