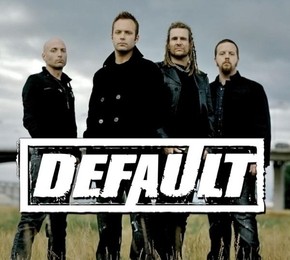 I must admit that I have been up since 4 am EST to watch the royal wedding. It is nice to see that love & marriage are still alive in this crazy world that we live in. On that note I wanted to feature a band that really needs no introduction. Having these guys on here really brings me back with their hit "Wasting My Time." Default have been together for over a decade and even though they are getting older & more mature, the quality music remains. They put out 'Comes And Goes' late last year and have been touring since. Join us this weekend as Danny talks about TVT Records, being pigeonholed by "Wasting My Time", the illuminati, and much more. Dallas Smith vocals are simply amazing!
Stoli: Where are we talking from today and whats up for the weekend?
Default: I am at home, in Vancouver, British Columbia and I've spent the weekend working on my house to get ready for a new baby! Man theres a lot of shit to do!
Stoli: What sets 'Comes And Goes' apart from your past albums and how long were you writing the songs?
Default: We spent a little over a year writing and demoing before hitting the studio. The mindset while recording was to utilize methods and production we haven't used before, like all of the keys and strings. It's definitely our most focussed record, and I think it shows in the end. It's my favourite album to date.
Stoli: "Wasting My Time" was a huge song. Do you feel constant pressure from the biz to make another song like that?
Default: Pressure yes, from the "biz" no! I'd like to get those checks again! The pressure's coming from the bank! LOL… Really we haven't strived specifically for another "Wasting", we have always tried to make songs that are melodic and catchy, "Wasting" was just one of those freaks of nature that exploded and stuck around. We are on our 4th album and 14th radio single now, so we've been tryin!
Stoli: Does it ever bother you when people just focus on just that song when you have so many other great songs?
Default: Not at all, I still get the royalties! I have never not enjoyed playing "Wasting my time". Everyone loves it and sings it, it brings the house down every time. It's good to at least have a song like that, that gets people's attention, maybe that's what gets them into liking the band.
[youtube ftX1v0sKhBk nolink]
Stoli: You guys worked with Bob Marlette on this album. How did he help enhance your sound and what is a session with him like?
Default: We worked on the 3rd album with him too so we had history already. He knows us well and he knew what we had to do and where we had to go to make this record the best yet. He's super chill, unless you're dragging your ass and playing clams! He's great, everybody loves him!
Stoli: You guys have huge longevity together. How do you keep the peace in the band and stay creative & hungry?
Default: Keeping the peace gets easier as you get older, we're all pretty close, our parents are close, our kids are close, so its easy. Staying creative can be tough at times but like any job you eventually have to figure it out and get up off your ass! Or you'll really be hungry!!!
Stoli: I love your song "Little Too Late." What is that song about & what inspired you to write it?
Default: That's a better question for Dallas, although he never actually admits whether ideas come from personal experience or from a character's point or view. I have my suspicions though!
Stoli: When I see an artist like Ke$sha I believe for a moment the illuminati controls the music biz. What do you think?
Default: She's new and fresh. No matter what your opinion of her music is, the industry is always starving for new and fresh. Same with Lady Gaga, Biebs, and Katy Perry, all fresh!
Stoli: What is another band that you respect & listen to right now?
Default: Lots and lots, but since you asked for any band, I will plug my friends in One Bad Son. They're just rad live and their songs will kick you ass too! One Bad Son will release in Canada this year, and in the US shortly after.
[youtube M1AOVP_boQA nolink]
Stoli: Were you surprised when TVT Records filed for bankruptcy and was it due to illegal downloads or poor management?
Default: I was and wasn't. I was when it happened but when I found out why I was like, "typical TVT owner who will remain unnamed"! Apparently it was to avoid a rather large payment on a loan, but instead of getting bankruptcy protection, they were forced to go to auction. We thought it was a good thing in the beginning because we though we were free, and then we spent the next 2 years talking with lawyers and trying to get our record out.
Stoli: What is coming up for Default and where you at online?
Default: We're working a single called "Supposed To Be" to radio now, you can find us on www.defaultonline.com and if you like what you hear please request "Supposed To Be" on your favourite radio station!
We'll also be playing more this summer so watch out for us!