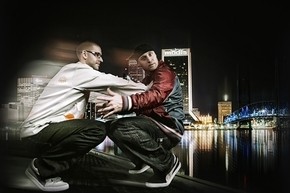 This Hip-Hop group from Switzerland have managed to make some serious headway in the US with their music. Tracks such as Biko, The Fan and Alternatives have been widely received by some of the fiercest of critics. Their last project saw the duo, made up of Polemikk and PA-Double, team up with one of the most recognized DJs on the mixtape circuit, DJ Green Lantern. Man vs Many was a strong effort and allowed Nefew to remain under the spotlight as fans continued to familiarize themselves with what the guys had on offer. Here they break down how they handle a challenge, how their musical backgrounds save them a small fortune and just how it all has to make sense.
FACT FILE:
Name of Artists: Nefew
Representing: Switzerland/USA
Influenced by: JDilla, Pete Rock, DJ Premier, Kanye West, Common, 70s & 80s Soundtracks, Jazz, 70s Soul and Rock, Funk
Label: Unsigned
Links: www.nefewmusic.com / www.oofrec.com
Project in Question: Man Vs. Many
This project follows on from the Anti-Hero Begins project, how easy a task was that, as that was a very strong project?
When we had our brainstorming sessions about how to tackle the new project it was never our main goal to try and top the Antihero Begins mixtape. We knew from the start that the Man vs Many mixtape would turn out to be different. Antihero Begins consists of interlaced track where as Man Vs Many can be looked at as a collage of different tracks. We decided to do that because we were aware of the fact that Green Lantern was mixing it and therefore providing the transitions from one song to the other. This made it quite difficult to implement a storyline as we did with AHB. So we decided to run with a single track approach. But you're absolutely right, what makes the Antihero Begins so special is that the format we applied was more in the vain of an audio book. It's not really a mixtape. But again, we had to go about the Man vs Many mixtape in a totally different way because assembling the whole project was in the hands of Green Lantern.
Did you feel that you had a challenge on your hands?
Oh yes, absolutely. And to be honest with you, we weren't really sure what Green Lantern would expect from us. I mean we were familiar with a lot of the mixtapes that he hosted, and they all followed a certain "sound scheme". A lot of his mixtapes where collaborations with major recording artists, how can you as a up-and-coming group compete with that? Although GH heard and really liked our music before he agreed on working with us we still had concerns about the quality of our music compared to the projects that he hosted prior to ours. This is why we took a lot of time to find a direction we wanted the production to go.
What determined its title?
Well, before we even started working on the songs Green Lantern asked us to come up with a few ideas and concepts for the project. But at the same time it was clear that we had to tell our story so we had to make sure the concept was something that reflected the things we stand, who we really are, how we look at things and how we perceive our surroundings and the things we see and hear on a daily basis. It's really about the individual. So one day we sat down writing down some titles and one of them was Man Vs Many. It just sounded right at the moment, just for the fact that you only had to add one letter to a word in order to change it's meaning in a drastic way. I kind of like the idea of individuality and conformity being so close together. Plus I think it really reflects today's music culture. It's so easy to lose once individuality in today's market. Just look at the music that is being released. Do you see any individualism? A lot of artists think they need to follow a certain musical direction in order for them to get exposure. Like, when is the last time you heard a hip-hop record without 808 drumset (laughs)? I'm talking about standards. People make you believe that you have to follow standards or specific musical templates in order to break through. Financially, artists are facing a rather tough reality this is why the likelihood of compromising your art is very high.
Do you feel that the content did the title justice and why?
Absolutely, because from an overall perspective I feel that every song contains statements that correspond with the explanations I just gave in regards to the title. You'll find elements of the conflict we're faced with on a daily basis in every track. But, I think that for the listener, it might be slightly more difficult to really grasp theses elements. The Antihero Begins project evolved around one main topic where as Man vs Many touches on a variety of topics that can be summed up it the title of the whole project.    
Going back through your stuff you appear extremely conceptual, and Man vs Many even though extremely lyrical doesn't necessarily appear as conceptual as the AHB project. Is this you guys just pushing your boundaries?
Yes, I think we this project it was more about addressing a variety of topics, but kind of trying to keep them in line with a much broader topic. Granted, you'll find tracks like for instance "Turn It Up" which is a rather battle oriented joint, but I'd say the story telling aspect of the whole project is still predominant.
Now how was it working with other producers as I read you tend to produce all your own stuff?
Actually, this project marks the first time we've ever worked with other producers and it was a great experience and I think we've managed to pick beats that blended in perfectly with our own production. Sometimes it is very difficult for me to produce my own records because you have to switch between two different mindsets. The creative process is very different when you produce music. I never produce one beat and write the verse to it right away. I always work on a bulk of new music and when I'm done producing and arranging it I start writing the lyrics to the songs. This can be hard sometimes as you have to switch between zones. But at the same time I think one of the major issues with the music industry today is that people tend to work with too many producers for one album. You will never be able to come up with a signature style when you work with different producers. Although we are two guys producing, you'll always be able to hear that specific Nefew sound. Just think about all the great bands in music, they all had a very signature sound to them, this is what we're trying to achieve.
You teamed up with Nottz on The Fan, a really impressive collaboration right there, congrats. How did that collabo come about?
Thank you very much. Our publicist Melanie made everything happen. She used to work on a few projects with Nottz's management team so the connection was already established. One day, she sent them a few of our tracks and they liked the music. Once we heard back that there was an opportunity for us to work with Nottz, man, that was one of the happiest days in our lives. At the same time, it was unreal. I mean there is this guy who produced some of the greatest records in hip hop history and he is about to send you beats, seriously (laughs)? Man I remember receiving those beats in a zip folder and unpacking them was like unwrapping a Christmas gift (laughs).
Will we see you working on more stuff with Nottz in the future?
I definitely hope so. I mean he's now working on a variety of huge projects but as soon as he's done with them I'm sure we'll be talking about a couple of collaborative tracks.
[vimeo 22447280 nolink]
Do you know exactly who you want to feature on tracks as you make them? For example did Dwele instantly come to mind when you produced and wrote?
We always try to pick features that make sense, musically and lyrically. Having Dwele on the song was, in my opinion, one of the best creative decisions we've ever taken. He sounds best on organic material, and his talent really added value to the whole joint. I mean not just because it was Dwele, but because his voice was perfect for the song. We don't have a lot of features, and to be honest with you it is not our main priority. But when we chose to feature someone it has to make sense. We don't have thousands of dollars to spend on features just to get our buzz going, so every decision has to be thoroughly planned before we can execute it. Our resources are very limited as you can imagine. Our features are not based on marketing aspects but more on creative aspects.
 
Handling all your production, are you professionally trained in any instruments, if so what?
Yes, I played the piano for over 13 years, plaid the drums for 3 years and even played a little bit of flute…. please don't laugh (laughs). My DJ and Producer PA-Double plaid the accordion and the piano for over 10 years. We're pretty well versed with instruments as you can see, plus it is quite an advantage when you can write your own notes and play the instruments yourself. It just gives you an incredible flexibility and it saves a lot of money you'd have to spend for professional musicians (laughs).
You have a very soulful vibe to your music, is this intentional or just your choice?
I'd rather say we have a very musical vibe to our production, it is soulful, yes, I mean this is the music we grew up on and what our parents passed down to us, but we don't try to fixate on one specific type of music. Again, we keep it very melodic, we're all about melodies, strong chords that spark emotions and we refrain from producing music that sounds cheap, unelaborated or corny. And yes it is our choice, for now at least, I mean you never know what other types of music might influence you in the near future. Right now I'm tapping into a lot of 60s and 70s folk and rock music. I just love everything I've been able to learn from that era in the past couple of weeks. I like to do research and analyze arrangement structures, chords, melodies etc.
I know you have been pushing your track Fade, another solid track. Was this written from personal experience?
Absolutely, the Fade joint is one of the most personal tracks I've written and it describes a situation I've been going through a few years back, but to a certain extend even now still. By the way, you'll find elements of that joint in the song "It's Your Life" off of the Antihero projects. Just thought that might interest you (laughs).
Do you find it easy writing from personal experience?
The best verses I've every written where those out of personal experience. And I never had a problem with pouring real emotions on a beat. I mean that's what real art is all about, isn't it? The best art is honest art, resulting from a situation you've experienced or something you've seen that caught your attention, in a positive or negative way.
What sparks your interest when it comes to the subject of your music?  
I like to experiment with different instruments and apply different effect processors to achieve a signature sound. And I'd say I'm all about analog instruments. I think what I'm most interested in is taking instruments and tools from the 70s & 80s and apply them in new ways, using modern day production practices.
How do you challenge yourselves when creating new projects?
I wouldn't say we intentionally try to challenge ourselves; we just try to experiment and try out new stuff without losing sight of who we are. Like you said before, you always have to push boundaries, try new things and think about new song concepts. Man in the end it's just about being creative. It all starts with the idea, once you have the idea it's like the path is laid out in front of you, all you have to do is walk. I don't think it's about writing the best rhyme ever of producing the dopest beat ever, it's more about the whole package, and we're striving to achieve the perfect blend of lyrics and music, with content and honesty, and a message of course.
Big shout out to the whole Skope team for the opportunity and the great questions! – NEFEW
By: Laura Croft the Crate Raider — CriticalMMG@gmail.com