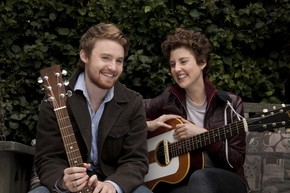 Sometimes, it's just right there in front of you. It's that thing that is so apparent; it becomes lost in its own obviousness. And often it only takes one chance event or one simple decision to reveal providence. In the case of Barbara and Ethan Gruska, it began as a little innocent mischief that siblings just tend to have a penchant for.
"A couple of years ago we were on a family trip to Israel and we didn't like this tour we were on so we ditched out on one of the days. At the time Ethan was writing songs and I was writing songs and we just started singing harmony on each others songs," said Barbara. "And literally in a moment, we decided to form a band and just go for it."
While it was in that moment of happenstance that the foundation was laid for their new outfit, The Belle Brigade, it was far from chance that the two siblings began to collaborate. Theirs is a lineage steeped in music and making it is simply the carrying on of an old familial trait. As the grandchildren of famed composer John Williams who supplied a generation of films with scores the likes of E.T., Superman and Star Wars and the children of songwriter/composer Jay Gruska, music making is practically coded into their DNA.
It is their family ties that also brings a unique perspective to the group–that of collaboration in their songwriting. "We really respect each other and of course we disagree," Ethan said. "I think we're a unique sibling team because we got through a lot of our stuff early on in life and we know it's important to be really sensitive to each other as artists. The other part of it is that I think Barbara is an amazing songwriter and I know she respects my songwriting and it's great because we love each others work."
"I think collaboration if it is a trend, is an age old trend, which probably means it isn't a trend," Barbara continued. "I just think some people like to work together and it's a really special way to work."
And the emphasis the two put on collaboration showed in their work enough to catch the attention of Warner Brothers and more specifically Reprise Records. Longtime family friend and producer Matthew Wilder (No Doubt's Tragic Kingdom) offered to help the fledgling duo and a year later, Barbara and Ethan found themselves at full-steam ahead. Demos were then recorded and showcases were performed. "We played for Warner Brothers twice," Barbara said. "Finally we got the call back, they said they liked us and we chose to go with them and we are so glad we did."
"They have been very supportive of us and part of the reason we went with them was just their legacy of artist development," Ethan continued. "So many of our musical influences from the 70s and 80s came out of Warner and we are just so lucky to be there."
After a few listens of the album, it is easy to deduce that "luck" has very little to do with the final product. Hard work and perseverance are the hallmark to this 11-tracks that can only be described as 70s style folk/Americana, country-kissed, dance-inducing paeans (Did I miss anything?). The album opens to "Sweet Louise" which features brother and sister in the midst of perfect pitch harmonizing a la Simon and Garfunkle. The simple acoustic melody gives way to upbeat rat-a-tat snare supplied by Barbara, backing piano tinkles with the highpoint being the tandem verse work at the midpoint. Suspected first album single (available now on Amazon and iTunes) "Where Not to Look For Freedom" is another upbeat toe tapper that belies their California roots. The myriad of soundscapes range from frantic acoustic/fuzz electric guitar interplay to the tambourine frenzy throughout, making this beachy, fun and leaning toward the rock side of things. Rounding out the breadth of the album is "Rusted Wheel" replete with its bass- and piano-heavy rhythm and intermittent effects-laden guitar. The backing Hammond shines on this track as well, just underneath the soaring vocal chorus.
Simply, the exuberance of the siblings is reflected in the ethos of the album. "Happy, gracious and feel-good" are fitting descriptors of both the debut and any interview involving brother and sister. In closing, Barbara perhaps said it best: "The first day of recording at Capitol was the first time I could honestly say: 'This is the best day of my life' and it remains to be that day. Second to family and friends, the record really embodies one of the highlights of both of our lives."
Sibling revelry, indeed.
by Chris West – cwest@skopemagazine.com