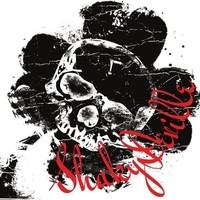 Named after the classic '76 Cadillac Coupe de Ville, Shaky DeVille is still cruisin' along with style & pizzazz.   I actually reviewed what was supposed to be their self-titled debut album back in '09 but low and behold 'Hot Asphalt' is the new debut.   Lead singer & guitarist Matt (M.S.B.) DeVille actually stopped that release because he and the group felt limited from a production standpoint.   The complete freedom to express themselves musically & artistically was missing from the 2009 disc but 'Hot Asphalt' apparently takes care of all of that.   Matt even decided to change around the band's lineup by adding Walter Cockcroft on upright bass and a session drummer while Matt Heineken plays live shows.   DeVille & company actually re-recorded eight of the original songs with three new tracks added.   I can't wait to hear this new and improved record because I was already a fan of Shaky DeVille and their sound when I heard that scrapped release.   I'm excited to hear this heavily anticipated album so let's go!
The trio may have been remodeled but the Shaky DeVille sound did not falter by any means on 'Hot Asphalt'.   Quite the contrary actually as Matt and his bandmates play with such an intense fury that has you on the edge of your seat from beginning to end!   M.S.B. displays crazy hot guitar riffs and vocals as you really get a sense that this group is one fine-tuned machine.
You get to hear a new song right off the bat with "Come Out Ye Black & Tan" where you get kick-ass Irish rock at its finest.   Besides an Irish influence, I also pick up on country & rockabilly at times with hard rock and punk being the dominant players.   Every single song is fast and LOADED with energy GALORE!   I'd like to refer to this album as ballz-to-the-wall music that will get your adrenaline rushing.   Shaky DeVille is wildly free & raw with no signs of slowing down anytime soon.
I honestly enjoyed every single track on 'Hot Asphalt' and can't get enough of this rock-nasty trio from Nashville!   I was a fan back in '09 and I'm a bigger fan in 2011 & beyond!   Playin' LOUD and playin' PROUD is what it's all about baby!   Just ask Shaky Deville because they absolutely nailed it!
By Jimmy Rae   (jrae@skopemag.com)
[Rating: 5/5]