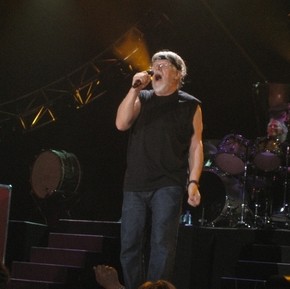 Bob strutted his stuff and his all night smile for almost two and a half hours, only slowing down to pick up a guitar or sit down at the piano.   I don't have to list everything they played, for the most part, pick up a Greatest Hits CD and there they are!
The Silver Bullet Band touring lineup has basically stabilized, featuring Mark Chatfield on lead guitar, Jim Brown on guitar and keys, Don Brewer on drums and vocals, Chris Campbell on bass, Craig Frost on keys, Alto Reed on sax vocals, percussion (including tympani), and guitar (I think he may have driven the bus also), The Motor City Horns, and backup vocalists Laura Creamer, Shaun Murphy, and Barbara Payton.  
Mark and Alto did their thing crisscrossing the stage with Bob throughout the show.   One highlight was watching Mark flaunt the history of guitars via his Cowtown, and Alto every conceivable version of sax including a 10' high (or so it appeared) baritone!     Both brought their chops, especially at solo time.   Alto shined on his babies Turn The Page, and Old Time Rock And Roll.   At one point the players lined up while playing with Bob, and later they all gathered around the piano while playing to watch Craig play his lick on C'est Le Vie.   The band took a short intermission, and later the girls sang The Isley Bros., It's Your Thing, which sounded great with the sax and MC Horns.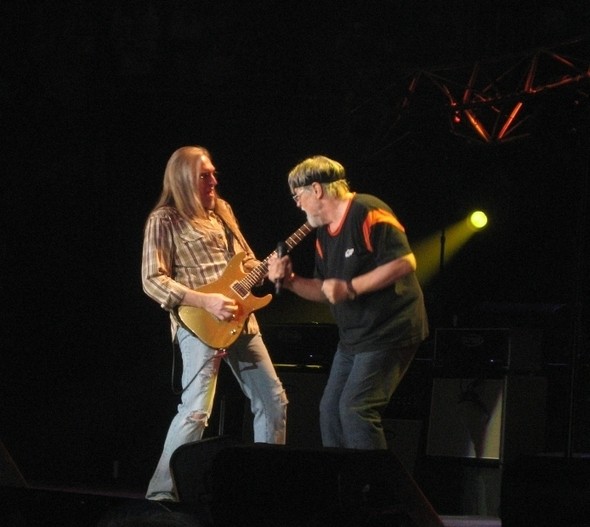 They added a lot of new songs to the live show play list (which after Alto said, I don't remember nothing other than all of the new songs I had to learn!), mixed with older material, like the 1972 Get's Ya Pumpin' off Early Seger Vol. 1., his first single, 1968's Ramblin' Gamblin' Man, Her Strut, Sunspot Baby, and Shinin' Brightly.     They also did their new single, Tom Waits Downtown Train off their new release, which is vocally right in Bob's wheelhouse (take that Rod).   Tryin' To Live My Life Without You rocked, having that great Seger soul presence.   A cool Travelin' Man/Beautiful Loser medley was done as it was on the legendary Live Bullet album.   Encores included Against The Wind, Hollywood Nights, Night Moves, and Rock And Roll Never Forgets.  
Always a performer who knows how to front a group and relate to a crowd, Bob shows how much fun he's having playing live.   Prior to the tour, they rehearsed tirelessly at Kid Rock's MI domicile.   His wardrobe changes included a Toledo Mudhens Jersey, a Harley shirt, and a few trademark on again off again headbands, and black cut-off T's.  
Country artist Frankie Ballard from Battle Creek opened with an energetic rock/country set, including Fogerty's Fortunate Son as a salute to the military.  
By R.M. Engelman