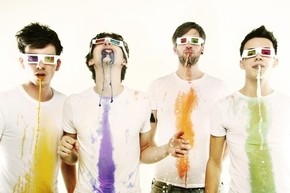 Whether playing to expectant audiences in their adopted hometown of Leeds, or showcasing everywhere from Europe to the US, Scams are rapidly establishing a reputation as genuine purveyors of a unique sound and a dynamic and infectious live act.
From the increasingly rare honesty in performance through to its consistent reflection in each album track, this is pop music without bullshit and without boundaries; more about heartfelt harmonies and searing melodies that carry openly sincere words.
The Scams sound comes from four separate musical backgrounds, years of individual performing, and one common intention. Each note, sound and syllable is carefully arranged but not over-thought, spanning a variety of music styles yet still maintaining an identity.
Scams "Youngblood" MP3: http://www.skopemag.com/audio/Scams_Youngblood.mp3
[youtube der6LggZQts nolink]