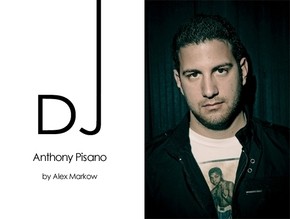 It's 10 pm and the guys of Brass Knuckles are just sitting down to game plan their studio session.   DJ Anthony Pisano looks over their agenda of tracks to work on. "Now that I look at it, that is a mean list. They're gonna be bangers" Producers Danny D'Brito and Tony Livadas along with Pisano make up Brass Knuckles. The team is gaining momentum with their dance remixes including remixes of Cee Lo's "Fuck You", Afro beta's "We Play House", and their latest original production "On and On (Party All The Time) featuring Ethan Edwards."
"The cool thing about Brass Knuckles and our relationship, is that Anthony as a DJ and being out in all the clubs, he knows what's going on, what's hot."   explained D'Brito. When asked if Pisano played any instruments he replied "they're the musicians, I'm the DJ." The guys feed off each other, with D'Brito and Livadas creating the sounds, and Pisano there to comment and direct.
Pisano himself keeps a busy schedule, spinning at clubs through out South Florida. This past week he opened up for Snoop Dogg and also holds regular gigs at South Beach clubs LIV, Louis & SET. When asked about Winter Music Conference and Miami Music Week, Pisano replied "March is a crazy month".  
I had a chance to sit down with Pisano and ask him about his beginnings and where he is at now.
How long have you been in South Florida?
About 5 and a half years
I originally met you at Saba in Boca Raton when you were doing your Rehab party,   how was it starting out having a weekly party that was so successful?
It was a big learning experience for me, it was also a lot of fun. It was a good party where all my friends got to have fun every Wednesday. It was a great vibe and people still talk about it today. It's funny because friends of ours that actually met each other at Rehab are now married.
With what you have learned, what is the key to where you have gotten?
Learning from mistakes, building relationships, keeping relationships, just networking. I was going to school for marketing and throwing parties at the same time, so it was big factor for me to learn the whole marketing end of it. It was pretty much building a brand.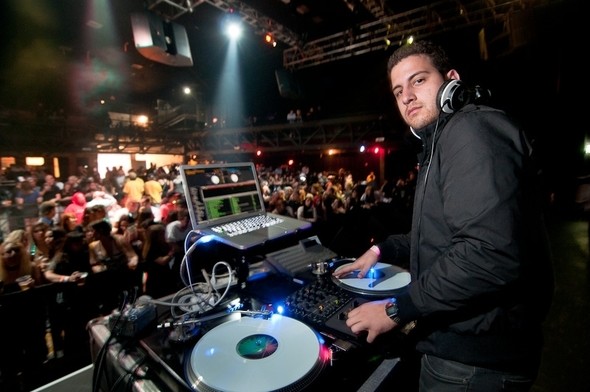 Did you finish school?
No, I got to the point where I was djing professionally and making grounds with the productions and it was just too much to balance it all.
Your sets were a mix of open format and electronic then, now one week your opening for Snoop Dogg the next your spinning at Liv, what would you say your general style is?
It really leans towards the event or the city I am djing. Also the venue I am djing in.
So you want to play to the crowd?
I am playing for the crowd but also infusing my style. Obviously for the Snoop show it's more hip hop, and I grew up on hip hop. Now my flavor is more like when I play in Miami. I play open format and sometimes I get to dabble more in the new disco side of music which is my favorite thing to play right now. On top of that also there's the house electro. If I play in New York its more hip hop then the house electro in Miami.
What sites online are you following right now to get a pulse on things?
I use www.directmusicservice.com and www.djcity.com. Blogs that I follow include Chubbie Beaver and Hype Machine, but I cant give away everything.
What DJ's are you looking up to right now?
As far as the whole funk dance disco side of production I like what The Knocks are putting out, guys like Classics, just that whole cutting edge new disco pop vibe. You also have the new comers like Avicii who I love to play. In the electronic house game Calvin Harris is another one, I also really enjoy Armand Van Helden and A Trak with their Duck Sauce project and that whole funk house infusion they are bringing commercial.
In terms of production, how long has it been since you got into it?
Its been about two years. I started in the whole music industry and djing when I was 17 or 18. I interned for Circle House then a couple years down the road I was working under the hip hop producer Big D with Danny and Tony of Brass Knuckles. We were working under him for a while doing a bunch of hip hop and R & B stuff then broke off as Brass Knuckles to establish our own brand.
So what's upcoming for Brass Knuckles?
We're trying to put our brand with big brands. We're trying to make really incredible music that people are going to dance to. Create music that people are going to enjoy, that people are going listen to and talk about. We want to get into every avenue as far as developing artists, throwing events. We're trying to take it from the remix end of to working with big artists. Whether its working with artist collaborating on a track or producing for other artists.
Where can we check you out in the upcoming months?
I'm currently working on a 5 country tour in Europe for the summer. I'm also working on a tour of Florida with Brass Knuckles in July. We have a few releases coming out including remixes and we have some original tracks. Danny and Tony produced tracks for Jagged Edge which drops on Mother's Day.
www.anthonypisano.com
www.brassknucklesmusic.com
By: Alex Markow – AlexMarkow@gmail.com – http://alexmarkow.com