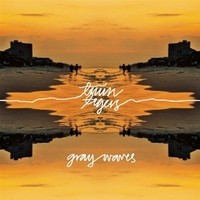 There is an atmospheric sweep to Gray Waves, the debut full length from Athens' Twin Tigers which makes recent tours with The Antlers, Deerhunter, Les Savy Fav and A Place To Bury Strangers understandable. For a debut, Gray Waves, a potent mix of haunting chamber pop and goth-inspired groove is remarkably mature and self-assured. This esteemed four-piece holds little back; if Gray Waves is any indication, they might be onto something huge.
"Automatic," a rollicking jam shows off the band's ability to cull their energy into a determined sense of purpose, "Red Fox Run" keeps listeners on edge with a poignant call and response and the title track, a sprawling six and a half minute number showcases the band's love for their forefathers. "Gray Waves" is a well-placed nod to Sonic Youth, but with a flair for the dramatics that is at once daring and confident.
While the list of bands which Twin Tigers has toured with is indeed long and noteworthy, the future looks even brighter for this band. Keep and eye (And more importantly) and an ear of them.
By Joshua Kloke
[Rating: 3.5/5]