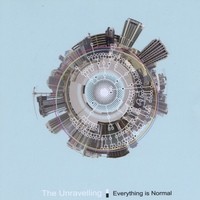 Over the years we've seen pop slowly evolve into what I like to call synth-pop or power pop. The music is rather synthetic, however clean, highly polished musical tidbits that are melody & catchy, with solid low end beats, & tasteful ear candy.   Lady Ga Ga, is by far the reigning queen. But this type of music has been around for quite some time.  
So across my desk slides the new CD by Australian 3 piece "The Unraveling" entitled Everything is Normal. Band members are: Clara (vocals) Dr. Pete *Guitar) & Jono (Keyboards)   This music combines a fascinating blend of "Retronica" with a vivid array of colorful melodies, beats & soundscapes. What I heard put a smile on my face, finally a band that gets it. The Unraveling is some of the best new music I've heard in quite a while & delivers many of the aforementioned items I spoke about. This CD covers all the bases delivering hooky grooves combined with amazing songwriting & a musical flair that just lets it all hang out.  
Everything is Normal by Everything is Normal is musical breath of fresh air. It's a polished sounding musical production from start to finish served up hot with great playing, solid writing, & a clean musical delivery. It's definitely a musical production that gives us a fresh glimpse at a hot new band from down under.
By: Drew Blackwell
[Rating: 4/5]