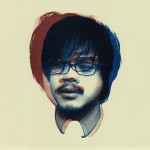 Though already having made "seemingly hundreds of recordings", In the Blink of an Eye b/w Condo Stress is Brooklyn based C.S. Yeh's first recordings to demonstrate his abilities at songwriting, and its a shame these two unfortuantely short tracks are all we have to hear.
"In the Blink of an Eye" is an undeniably infectious track that strikes some familiarity with Hot Chip. It pulls you in from the start with its bouncy guitar riff, and slowly transforms into a blissful pop song that would go fittingly on any springtime or summertime mix CD.
On the other side is "Condo Stress", a typical, slow piano-ballad, that sounds like it probably was written in a condo under certain stress; its very vulnerable. Yeh's breathy, monotone singing style makes it unclear what emotions he is trying to tap into, but it's that kind of emotional ambiguity that makes "In the Blink of an Eye" so compelling.