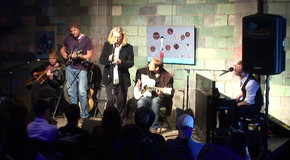 In a town that has seen a rapidly diminishing number of music venues over the past few years, available space has become a valuable commodity. Pair that space with a mantra of mass functionality and you have Eye Level Art, one of the most unique and forward-thinking venues in Charleston, SC. Equal parts gallery/event space/concert hall; ELA are careful not to pigeonhole themselves, broadly labeling the space: "… a venue for exciting and progressive creative concepts."
Most recently, the minds at ELA have come into the new-year like lions by crafting two "out-of-the-box" conceived concerts and bringing a bit of flare to the doldrums of January and February–the second installment of "Songwriters in the Round" and an upcoming celebration of George Harrison's music.
"Songwriters in the Round" is a mash-up of the 90s trend of "Unplugged" albums meets VH1's "Storytellers" series. Put on in collaboration with Charleston local Mark Bryan (Hootie and the Blowfish) "Songwriters" brings local, regional and national artists to the intimate setting of ELA. Accommodating roughly 100 people, there isn't a bad seat in the house, even for latecomers who find themselves relegated to standing room only.
Amongst the hanging art and wooden frames, the second installment lineup boasted Collective Soul front man, Ed Roland; Caleb Slade, formerly of The Fray and solo singer/songwriter Patrick Davis all joining in with Bryan. In informal jam fashion, songs are played "down the line" with occasional accompaniment and varied instrumentation from the other artists.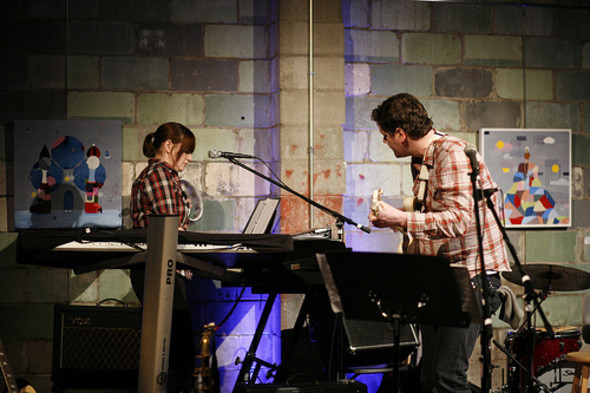 The night's standouts were Davis' "Numbers"–an honest acoustic piece rife with tinges of his Southern roots. Though lacking the piano accompaniment and rhythm section of the studio release, the stripped down version was hauntingly good based on the clever lyrical matter. Roland was arguably the night's crowd pleaser delivering his acoustic renditions of Collective Soul staples. Inviting a guest guitarist from the audience, he belted the radio-friendly fave, "Spit Me Out" in his ubiquitous rasp vocal delivery. Slade's offerings were introspective vocally led tunes of the down tempo type. Demure piano and a large vocal range were predominant facets. Rounding out the lineup, Bryan's songs featured upbeat, frantic acoustic strums and slightly campy lyrics. Ebbing and flowing from guitar to mandolin, his offerings showcased the lighthearted side of the night.
On Feb. 25th, ELA presented "Happy Birthday George Harrison", a tribute to the late Beatles guitarist featuring a collection of local and national artists the likes of Leslie's Sadler Vaden; Wil York and Tami Boyce of Sleepy Eye Giant; Joel Hamilton of The Working Title as well as ELA's own sound engineer, Adam Parrott. The first set featured the specific music of Harrison with a second "artist's choice" following.    
For more information on Eye Level Art, go to their website at www.eyelevelart.com. There you can peruse the current gallery, read artist biographies or check the upcoming event calendar.                
By Chris West – cwest@skopemagazine.com
Photos By: Becca Finley (Header) and Eye Level Art (Body)