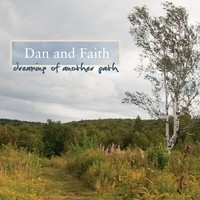 Dan and Faith Senie are a husband & wife duo who have come full circle to create this debut album.   20 years in the making, 'Dreaming of Another Path' represents all the hard work that Dan & Faith contributed to this project.   One amazing aspect is that although Faith has played piano in the past and both have sung in choruses, neither one had any other musical experience prior to 2006.   The two members united once again to learn new instruments and develop songwriting skills.   The Senies also challenged themselves by searching for their individual voices on the new disc with no prior experience singing solo.   This was one incredible, soul-searching journey for this married couple from Bolton, Massachusetts.
[youtube jUZunV_knK8 nolink]
The new record incorporates different elements that Dan and Faith like to refer to as "Dream-Inspired   Original Folk".   The 14 recordings on 'Dreaming of Another Path' revolve around real life dreams, people and places that are all distinctly personal.   You get a very genuine & honest feel from Dan and Faith's music just by the way they sing and play.   Additionally, a simple approach is heard as folk, blues and Americana give listeners a true dose of reality.   Harmony and a nice acoustic sound dominates this record as Dan & Faith attempt to bring it all to life.   Dan plays guitar, harmonica and sings baritone as Faith plays mandolin, tenor banjo, acoustic & electric bass guitar while taking on softer vocal leads & harmonies.   Other guest musicians on certain tracks include: Seth Connelly (piano, guitar, electric guitar & upright bass), Pete Kennedy (electric guitar) and Jackie Damsky & John Kirk on fiddle.  
The CD starts up with a song titled "Sleepy Town" where right away you are hearing good harmony to go along with a simple & real touch.   Next up you have "I've Missed Me" where you get a sweet & subtle sound and one solid arrangement.   Track eight "Lonesome Highway" is my favorite on the disc because I just thought it was a wonderful instrumental that was elegantly simple.   Right after that I really enjoyed Dan's harmonica playing on the fun, bluesy number "No Blues Blues".   Overall, both Dan & Faith displayed nice vocals but I feel as a team they were strongest.   When they sang together, there were some magic moments but I felt a little taken back when Dan & Faith went solo.   Their individual singing styles just weren't my cup of tea where it felt too chorus-like at times.   I understand that both musicians have a background in choir singing but it just doesn't come across as natural on a folk/blues/Americana record.   I think if Dan & Faith let loose a little bit vocally they would really surprise themselves.  
Dan and Faith "Old Cabin" MP3:
It's worth mentioning that Daniel Senie is also an award-winning photographer whose work appears on the cover art.   As soon as you look at the CD art work you will picture a peaceful, woodsy scene with plenty of trees, grass and shrubs staring at you.   I'm sensing an earth-friendly vibe here where nature is captured in its most natural & beautiful state. For more info & images check out www.danielsenie.com.  
Dan and Faith sing & play songs for everyday people and there's nothing wrong with that.   "We love songs that tell stories, and love hearing them in simple arrangements that support but don't overwhelm the songs. It's our goal to create and record songs from that sensibility, perhaps reflecting our influences such as Pete Seeger, The Weavers, The Kingston Trio and Larry Long," said Dan.   Pete Kennedy of The Kennedys had this to say, "Dan and Faith warmly and honestly portray themselves, as individuals and as a couple, with an expansive panorama of acoustic styles that reflects their enlightened world view: a deep love for words and music, and a compassionate earth-based spirituality that illumines every couplet, guitar riff and mandolin melody."   Dan and Faith Senie are not just partners in music but also partners in crime and most importantly partners in life.  
Dan and Faith perform primarily in Massachusetts around the Boston area and they also host house concerts and an all-acoustic open mic in their hometown of Bolton (www.stillriverconcerts.com).   The duo recently had a CD Release Party at the Parish Center for the Arts in Westford, MA but here are some other dates/venues where you can catch the tag team in action:
April 16th: Showcase night at Still River Concerts, Bolton, MA: Dan & Faith, Beth DeSombre, Friction Farm, Carolyn Waters
April 22nd: Java Room, Chelmsford, MA with our wonderful friend Perry Desmond-Davies
July   11th: The Art Barn Songwriter Series, Cotuit, MA (Cape Cod)
July 30th: the farmer's market in Pepperell, MA ("love doing these, we play for a few hours, then buy a bag full of great veggies!"–Dan).
August 23rd: Nourish Restaurant in Lexington, MA, "a really nice restaurant with great food."–Dan
Here are some helpful websites where you can learn more about Dan and Faith Senie and even purchase their album:
Home Page: www.danandfaith.com
Facebook:   www.facebook.com/danandfaith
Reverb:       www.reverbnation.com/danandfaith
iTunes:       http://itunes.apple.com/us/artist/dan-faith/id405170146
CD Baby:     http://www.cdbaby.com/cd/danfaith
Myspace:     www.myspace.com/danandfaith
This musical pair can also be found on: Sonicbids.com, ourstage.com, Jango, Airplay Direct, Last.fm and Amazon. Make sure you pick up a copy of Dan and Faith's 'Dreaming of Another Path' today!  
By Jimmy Rae (jrae@skopemag.com)