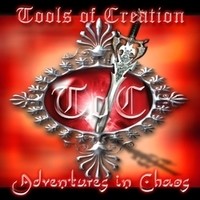 Tools of Creations is a rock-nasty trio from Ottawa that offers adrenalin-rushed music.   Their debut album is titled 'Adventures in Chaos and you will get just that.   After hearing this record in full you will know that T.O.C. is not messing around one bit!
Tools of Creation is made up of: Ben Dimaria on lead vocals & guitar, Chris Rock on bass (not the comedian/actor) and drummer/percussionist Stewart Scharf.   The power & force that these three musicians put into their performances is off the charts.   The guitar, bass, drums and vocals are all on fire all at the same time!   Dimaria likes to refer to their sound as: "in your face loud rock that will blow your mind away–balls to the wall rock and roll."   I couldn't agree more and I feel there is nothing that will put this fire out.   Their mentality is play LOUD or go home and I love that!
T.O.C. start things up with a high octane song called "Too Much Isn't Enough" where you will be shouting "YEAH!" all day and all night long.   I really was feelin' the guitar solos and riffs as Ben played with ferocious energy.   The bass lines were nice, the drums were hittin' hard and Dimaria was singin' like there's no tomorrow.   I actually would compare Dimaria's vocal delivery to an edgier Jon Bon Jovi at moments.   I also heard Ben channeling Axl Rose at times especially on tracks eight and nine, "Love is Hate (In Disguise) & "Mind Warp".   Additionally on "Mind Warp", I was receiving a Judas Priest "You've Got Another Thing Comin"-kind-of-vibe which was very cool to hear.   Dimaria ends with authority by simply stating "If you can't do it with style don't do it at all."  
This Canadian trio rocked it out all the way with elements of classic rock, hard rock, modern rock and metal pouring through.   T.O.C. has all the right tools for the job as they prove it convincingly on 'Adventures in Chaos'.   Grab yourself a big bowl of rocky pebbles and prepare yourself for a carnival of rock.  
By Jimmy Rae (jrae@skopemag.com)
[Rating: 4.5/5]