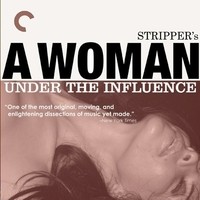 Right away the name of the band gets your attention not to mention the eye-catching album title.   And I'm here to tell you that it doesn't end there once you dive into the record.   Ridiculously original and utterly outrageous are words that can best describe Stripper and their new release.  
Stripper is made up of three members: Mike Verna on vocals & drums, Bobby Vaughan-Wheeler on bass and Ted Barakat on guitar.   It's also worth noting that Verna wrote all 11 songs on the CD.   The trio hails from Los Angeles and it's safe to say that I have never heard a band or recording quite like this.   There is no set style in mind as Stripper just plays whatever comes to mind.   They perform to the sounds of 'A Woman Under The Influence' but after hearing this album in full I think one would have to be heavily under the influence themselves.   As you attempt to grasp the object at hand and soak it all in just remember to take it one step at a time.
As soon as I hit play on my Sony CD player I'm hearing absolute pandemonium!   The audio comes across as extremely offsetting & out-of-whack.   As the disc continues I pick up on such a weird display of sound with unconventional musical patterns at their finest.   On track 10 "Other You" get ready for some far out, spacey grooves while the closing number "Anyway" will leave you in a complete trance.  
And after it's all said & done I'm thinking to myself 'what the hell did I just hear'!   The answer is no clue as I feel I was left in the dust with the fog thickening.   'A Woman Under The Influence' is not supposed to make sense I feel because it aims to take you out of your comfort zone.   Stripper dares to be different and dares to be bold whether you like it or not.   Prepare yourself for one messed up listening experience that will leave you hanging and have you questioning everything.  
By Jimmy Rae (jrae@skopemag.com)
[Rating: 1/5]