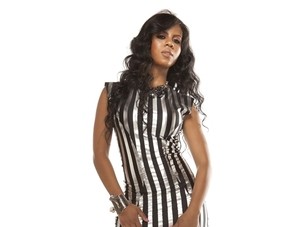 Some kids want to grow up to be teachers. Some want to be doctors or lawyers. Some have an idea in their minds of what they want to be when they grow up, and some just don't.
Casha Monet knew what she wanted to be when she was in kindergarten — a singer.
 
"I always sang around the house and for my family, doing talent shows, and stuff like that," says Monet, the 22-year-old Compton native, whose name sounds just like "cash money", but with a bit of saucy flair. "When I was four or five, I wanted to be a doctor, [but] I have the weakest stomach ever, so I thought 'oh no way, I can't be a doctor'."
 
By age 15, Monet joined a music group that was, as she describes it, 'pop and rappish', where they sang, performed, and recorded. Yet, as a highly independent individual, Monet wanted to do her own thing and go at it on her own. She eventually left the group and decided to follow her own dream.
 
"I'm kind of doing the Beyonce' thing and breaking away," she says, noting that Beyonce' is in fact one of her role models. "I always admired Beyonce'. I think she's the greatest!"
 
Monet was truly determined to move forward by all means necessary. Upon leaving home, Monet notes that after she "moved out of my mama's home", she worked doing hair and lived in various places — from hotels to other people's couches and homes.
 
Monet's hard work definitely paid off when Yung Berg caught wind of her, leading to the recording of "The Business", which dropped in 2008. Fast-forward to 2010, and Monet is in the studio working with Tank, when "someone from Def Jam" hears her voice.
 
"After she heard me on the records, she set up the meeting," says Monet.
 
That someone was Karen Kwak, Vice President of A&R Operations at Island Def Jam. And that meeting turned out to be with none other than The Dream himself.  
"It was so fast," Monet says, with a smile beaming right through the telephone during our interview. "The Dream was already someone I always wanted to work with —he's on two [of   my] songs already. I would love to work with Kanye West. That's about it."  
 
According to Monet, her music is a different kind of R&B. It's "more raw and gritty" and has elements of hip hop in it as well. Shooting for a debut release by this summer, Monet has been hard at work in the studio with The Dream, who has been pitching in the writing and producing aspects of the album. For the most part, Monet has been recording tracks on a solo tip, but notes that The Dream always mentions other rappers that would sound good on a track, like Snoop or Young Jeezy.
 
"It's a lot of fun working with him," Monet says of The Dream.  
Tracks such as "Sunday to Monday" have a bit of reggae flair to it, while "Gangsta" is more street. One that Monet says she really likes is called "Myself", which "basically tells people all you need is yourself to be that better person".
 
"My goal is to do an album every year, tour, record, and then do it all over again," she adds.
 
As Monet continues to grind in the studio, she never forgets where she came from and wants others to strive just as hard as she has in her life.
 
"As you know, I grew up from Compton," she explains. "I want my fans to know that I'm making music for everyone, but mainly for people growing up in similar situations — that grew up in urban areas like I did coming up. Don't let anything stop you. Just keep going and keep going and you will get to where you want to be."
To catch up with Casha Monet, check her out at www.twitter.com/cashamonet.
By: Erika Gradecki – egradecki@hotmail.com