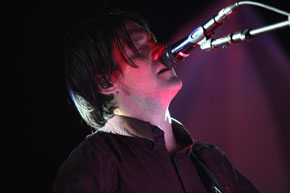 Conor Oberst has come a long way from the early cassette recordings of a sensitive boy with a wavering voice and a knack for poetic storytelling. He has grown up both emotionally and musically and has also become quite the confident stage performer.

The wildly prolific Nebraskan recently released his 10th album with Bright Eyes, the band that made him an indie rock icon.   The unadorned and raw recordings of youthful alienation have given way to a more self assured, mature songwriter and a musical mastery that gives full frame to the big picture of his grander intentions.   It was these intentions that were made clear by his performance this past Friday night at The Tabernacle in Atlanta, GA.
The Tabernacle stage was a sight to see, filled to the brim with the band's instruments and adorned with lights and other effects. A giant LED video served as the backdrop and the stage was framed by two white sails or shells that looked liked the roof adornments of the Sydney Opera House. The numerous microphone stands were aglow with rods of light that alternately switched on and off synchronized with the stage lights. Piano and trumpet player, Nate Wolcott, remained camped under one of the sails with his many pianos.
The set began with "Firewall" the lead song off the new album The People's Key. The song starts off with a monologue, voiced by Denny Brewer of Refried Ice Cream, over ethereal background music. He speaks about Sumerian tablets and extraterrestrial beings with reptilian features enslaving and interbreeding with humans. It seems as if Brewer and Oberst have taken some interest in the ideas of alien visitation expressed in books like "Chariots of the Gods?" and "Childhood's End" and History Channel's "Ancient Aliens" series.
Anyone familiar with Oberst knows that his songs are both cerebral and mystical. Oberst plays in the diverse areas of existential philosophy, eternal truths, raw emotions, politics, religion and personal struggle. His music can be at once intimate and then universal – changing focus from the one to the many. He accomplishes all this with a lyrical finesse and poetic prowess unmatched in rock music. He is able to accomplish so much in the arrangement of his words and it all comes across in such a natural and organic way.
So was the case this night. On stage Oberst was full of confidence and exuberance cruising through an exhausting stretch of 24 songs. The lush instrumentation of the band provided a foundation, a sea of sound on which Oberst floated with his acoustic guitar and wavering voice. Mike Mogis on steel pedal guitar provided forlorn metallic notes that accentuated the emotional points of the songs. He also displayed his electric guitar virtuosity with a solo on "Triple Spiral".   They reached into the past with "Falling Out of Love at This Volume" off of A Collection Of Songs Written And Recorded 1995-1997 revisiting the early, less adorned work with full and layered sound. They launched into the uplifting "Bowl of Oranges" with up tempo and raucous energy. Oberst addressed the crowd with graciousness. He also cracked a couple of jokes. He related a story of his trip to Disney where he learned a new phrase that he thought was funny "Celebrate the dream inside you".
They switched gears with the more personal "Poison Oak" with Oberst playing and singing alone until Wolcott jumped in with a beautiful trumpet solo. Another intimate mood was struck with the poignant "Lua" with Oberst's fragile voice hovering over the confessional lyrics. That song ended the first part of the set.
The encore comprised of four songs and   began with the tale of a drug addled youth in "Gold Mine Gutted" from Digital Ashes in the Digital Urn. Oberst introduced the next song saying it was a little mischievous, it was "Lover I Don't Have to Love" with its sinister bass line and accounts of drugs, sex and the hedonism of the rock star. They then launched into "Ode to Joy" a song that Oberst said "he ripped off from Beethovan". It was a cacophony of instrumentation that gave way to the last song   "One for You, One for Me" that closed the night.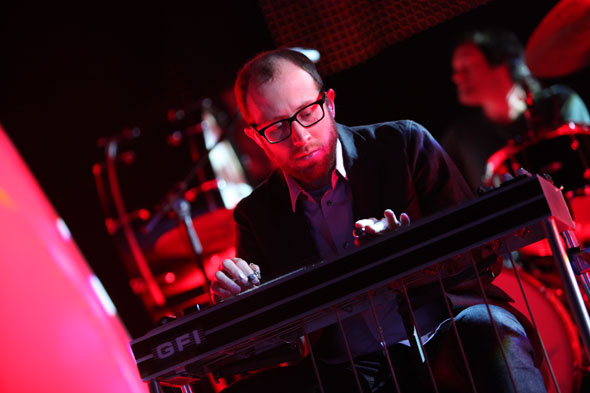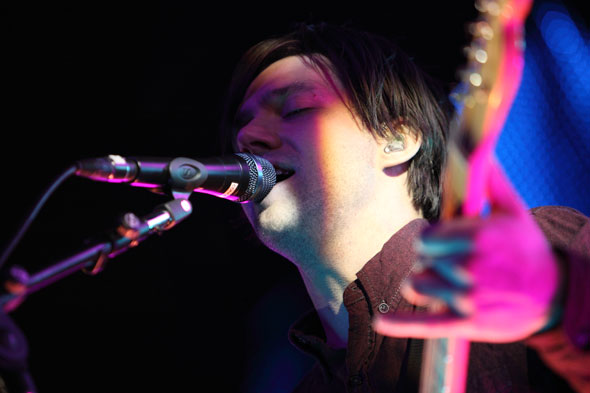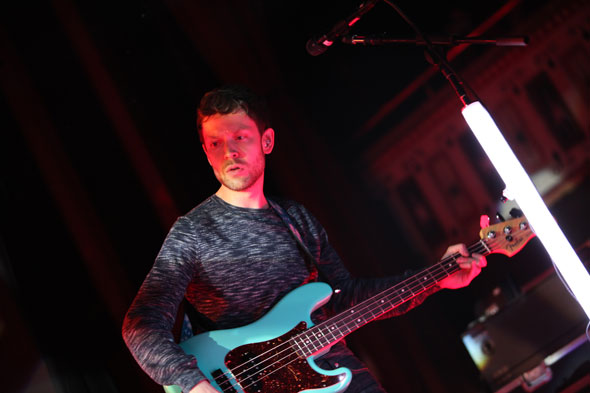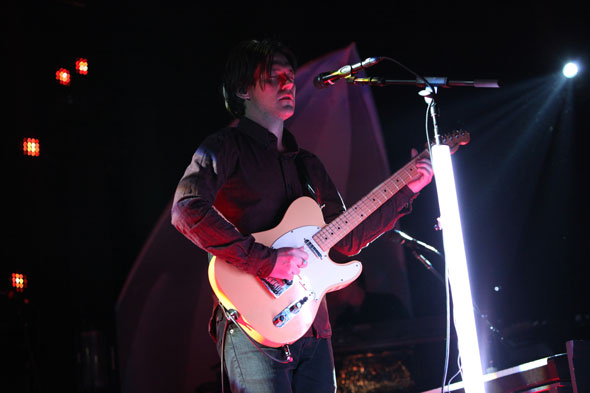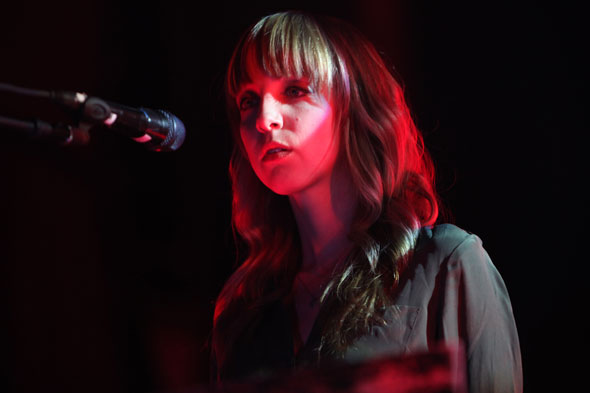 Setlist
Firewall
Jejune Stars
Take It Easy   (Love is Nothing)
Four Winds
We Are Nowhere and It's Now
Something Vague
Arc Of Time
Triple Spiral
Falling Out of Love at This Volume
Shell Games
Approximate Sunlight
No One Would Riot for Less
Bowl of Oranges
Beginner's Mind
Cartoon Blues
Old Soul Song
Hot Knives
Poison Oak
The Calendar Hung Itself
Lua
Encore:
Gold Mine Gutted
Lover I Don't Have to Love
Road to Joy
One for You, One for Me