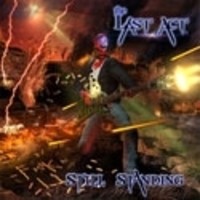 Get ready for the hard rock/metal act from Calgary that call themselves The Last Act.   These hard-rockin' Canadians will prove to you that they are no joke.   The new record is titled 'Still Standing' and this band is standing mighty tall after it is all said and done.  
The group is made up of four musicians:   founding members & twin brothers Jeff (lead guitar) and Paul Larsen (bass), Jason Turnbull on lead vocals & rhythm guitar and Taylor Sanderson on drums.   The chemistry here is just crazy as The Last Act just tear up this 12-song set.   There wasn't one member that stood out over the other; they brought it together as a heavy-hittin' team.   There were some stellar moments all around that just blew me away.   Awesome guitar riffs, cool bass lines, infectious drumming and one impressive vocal range from Turnbull equals complete success for The Last Act.   I have to say that Jeff Larsen had some amazing guitar licks here and Jason Turnbull's singing was perfect for this type of album & music.   These guys can definitely sing & play with the best of them out there; no doubt about it.   From start to finish it is nothing but high energy and intensity that makes this group extremely recognizable.   Never a dull moment on 'Still Standing' as The Last Act is bringin' it in full force and giving it everything they got.   I really loved the mix of tracks here as these Calgary rockers give one powerful performance after another.   Hard rock & metal at its finest as The Last Act receives the WOW factor from me.   This group even pays homage to those hard-rockers & metal heads that came before them as you pick up on classic rock vibes mixed in.   I particularly liked track three "Habitat for Insanity" because of the standout guitar presence and an aggressive sound that was contagious.   You even get two instrumentals where one is short 'n' sweet on "Lena's Song" and the other is a rock-nasty jam session on "Burning Stack".   The record ends on a high note with "The Last Light" where you receive one incredible encore of a song.  
In the end, there is nothing bad I can say about this band because they just made it all work.   If you're a hard-rock/metal fan then you owe it to yourself to check out this band and their new record.   Even if you're not a rowdy headbanger check 'em out anyway because they're just a damn good group.   I can sense the blood, sweat and tears that went into making this album as their hard work pays off BIG.   I can't say enough about The Last Act and their new release 'Still Standing' but this–ROCK ON 4 EVER!
By Jimmy Rae (jrae@skopemag.com)
[Rating: 5/5]