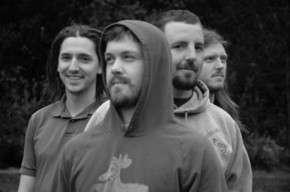 Sideways Reign, based in Union, Washington, is a band representative of the artistic sensibilities of the masses. They're your local barkeep, the hard-hat wearing construction worker, or the ice cream maker on the corner; on and off stage they remain the approachable, everyday guys you grab a beer with after work. In the same sense A Stand For All Stages, the band's debut LP, offers something for the broadest of audiences with a genre defying blend of rock, blues, folk, and reggae wrapped in a "F#ck The Man" vibe we can all appreciate.
Sideways Reign "Spinning My Wheels":
The resulting album, A Stand For All Stages, followed the success of the EP Scale Mt. Epic. The EP, which was released in the Summer of 2008, was recorded in a live, full band setting – often in only a few takes – to avoid overproduction and add continuity between their live and recorded sound. What you hear on the studio album is a true representation of what you'll find at a Sideways Reign show. The sound falls somewhere in the realm of Dispatch, John Butler Trio, Ben Harper and the likes. Stang's vocals come across as part Citizen Cope and part Ray LaMontagne with a hint of Neil Young's soulfulness, and Dehe's electric driven, blues influenced groove's evoke thoughts of Blind Melon. The songwriting speaks of the trials and tribulations of everyday life for regular people. Their masterful storytelling stems in part from the times Stang and Dehe spent around campfire sing-alongs in their youth. Many of the poetic verses bring a sense of hope we can all identify with, whether it's love gained and lost, feeling voiceless and disenfranchised, or the weariness of the daily grind.
Frontman Justin Stang also made news when running to become a Washington State Senator on a Sustainability platform in 2010. The pro-eco campaign didn't result in a win, but the 1,000 write-in votes he received exemplified the scope of Sideways Reign. Alongside the music and political campaigns, the members are enriching lives on a local level through the Sideways Reign Foundation. The non-profit awards an annual scholarship, sponsors a youth soccer team, and adopted a State Highway. Beyond this continent, Sideways Reign is the sponsor of a child in need in Bangladesh. All funded by earnings from live shows.
In February 2010, the band played 25 shows in 32 days across 19 states. They finished the DIY-style tour with a net profit, doing so without a booking agent, management or financial backing. But It isn't just the tour, it's 100 % DIY. From songwriting to accepting your Facebook friendship, and everything in between (including taxes), they own and control it all. Sideways Reign is how the musician's dream works in the real world, and then some.  
Sideways Reign Tour
3/2/2011 Union, WA – Robin Hood Pub
3/5/2011 Shelton, WA – Grove Street Brewhouse
3/7/2011 Portland, OR   – Alberta St Pub
3/8/2011 Medford, OR   – Johnny B's
3/9/2011 Chico, CA   – La Salles
3/10/2011 Sacramento, CA   – O'Malleys Irish Pub
3/11/2011 Redding, CA   – Maxwell's Downtown Eatery
3/12/2011 San Francisco, CA   – Showdown
3/15/2011 Austin   – Carousel Lounge
3/16/2011 Austin   – Kickbutt Coffee
3/18/2011 Dallas, TX   – Absinthe Lounge
3/19/2011 Dallas, TX   – Opening Bell Coffee
3/21/2011 Denver, CO   – Quixote's True Blue
3/23/2011 Park City, UT   – "Mountain Views" on Park City TV
3/24/2011 Boise, ID   Liquid Lounge
3/25/2011 Pullman, WA   – The Coug
3/26/2011 Union, WA   – The Robin Hood Pub
4/30/2011 Shelton, WA – Springfest